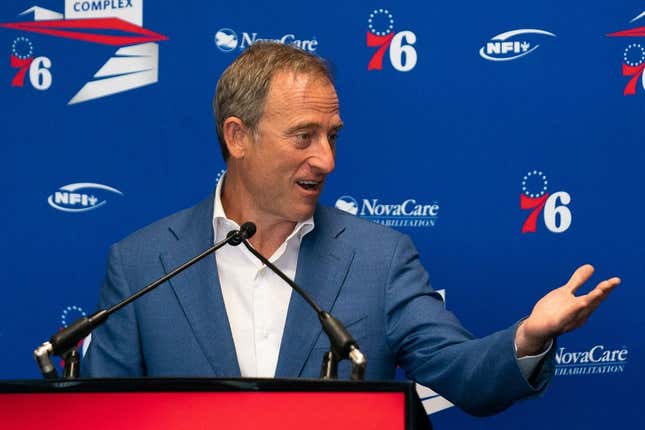 Incoming Washington Commanders owner Josh Harris received a hero's welcome at the entrance of the team's stadium on Friday afternoon, where locals celebrated a changing of the guard from Dan Snyder and embraced the local fanboy feeling emanating from the new boss
How running an NFL team is like running a restaurant | Chef Emeril Lagasse
Harris was approved as owner of the Commanders by unanimous vote of the NFL's 32 franchise owners in Minnesota on Thursday and arrived 20 hours later to droves of grateful fans chanting "Thank you Josh.
"We have a lot to do," Harris said, slapping high-fives with fans hovering at the front of the stage. "We've got to get the team ready to win football games. We've go to get out in the community and start to pay it forward. We've got to change fan experience at the stadium. That's what we're focused on right now."
Former head coach Joe Gibbs addressed the crowd to shed light on Harris, who owns a minority stake in Joe Gibbs Racing.
With head coach Ron Rivera and team president Jason Wright among existing team brass seated on stage, Harris engaged the audience with an energetic flair diametrically opposed to his predecessor.
The message from the Chevy Chase, Md., native was different, too.
Harris sprayed to every field in a question-and-answer session with fans who asked about the team changing its name for a fourth time and the future of the antiquated stadium.
"We're going to throw a party every other Sunday," Harris said, highlighting his experience going to the franchise's games at RFK Stadium.
"When you have guests in your house, you treat them well. You don't have couches that are broken. You don't have TVs that aren't working. That's what we're focused on right now. As far as the stadium experience long run, we would love to have a stadium where opposing players fear to come and our players love to come and our players love to come and feel welcome. That's what I experienced at RFK. Whatever happens at the stadium, that's the kind of stadium experience I want to create."
Harris pointed to recently published franchise value numbers that showed Washington was No. 1 in North America in 2008 but has since been overtaken by multiple teams, including the Dallas Cowboys, New England Patriots, Los Angeles Lakers, New York Yankees, Boston Red Sox and others.
He said he does grasp the amount of work ahead to bring the franchise back to once lofty heights.
"It's hard to imagine but I've seen the numbers. The Commanders were once the No. 1 franchise in the NFL back when they were the Redskins. Not the Dallas Cowboys.
--Field Level Media