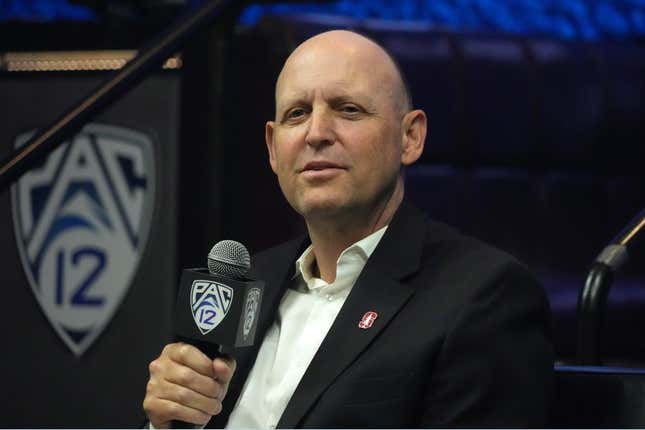 Ashton Daniels threw for 249 yards and hit tight end Benjamin Yurosek nine times for 138 yards and a touchdown as Stanford opened its season with a 37-24 defeat of Hawaii on Friday in Honolulu.
How running an NFL team is like running a restaurant | Chef Emeril Lagasse
Daniels, a sophomore, wasn't announced as the Cardinal's starting quarterback by new coach Troy Taylor until game time.
Daniels completed 25 of 36 passes for two touchdowns, and his 32-yard toss to Yurosek on a flea flicker after a reverse handoff broke a 7-7 tie early in the second quarter. Daniels also rushed 11 times for 42 yards.
Brayden Schager connected on 30 of 53 passes for 355 yards and three touchdowns for the Rainbow Warriors (0-2), who hurt themselves with 107 yards in penalties. Pofele Ashlock made nine catches for 123 yards and two scores.
Ashlock's 7-yard reception tied the game at 7 on the third play of the second quarter.
Schager found Steven McBride for a 24-yard touchdown to pull Hawaii within 27-16 on the first play of the fourth quarter, but the two-point conversion pass failed and the Rainbow Warriors got no closer the rest of the way.
Joshua Karty's third field goal of the game, a 46-yarder, and John Humphreys' 13-yard touchdown catch from Daniels effectively put the game away.
Ashlock scored on a 16-yard toss from Schager with 1:08 left in the game.
Karty, who hit all 18 of his field-goal attempts last season, also connected his other attempts, a pair from 25 yards out, on Friday.
Linebacker David Bailey recorded three of Stanford's six sacks.
Stanford piled up 407 total yards to 350 for Hawaii, which had 391 while losing 35-28 to Vanderbilt in Nashville on Aug. 26.
The Cardinal expanded their lead to 21-7 with 4:25 left in the first half on Bryce Farrell's 2-yard rush. The Rainbow Warriors pulled within 21-10 on Matthew Shipley's 32-yard field goal as the half ended.
Hawaii's Meki Pei and Isaiah Tufaga and Stanford's Matt Rose were all ejected for targeting.
—Field Level Media