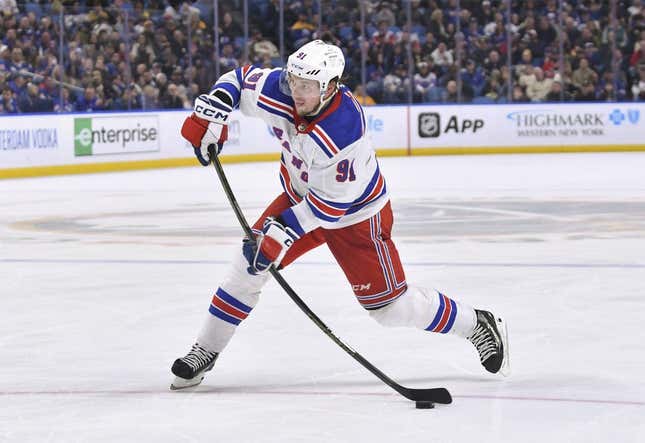 An arena video tribute awaits former Blues forward Vladimir Tarasenko when he returns to St. Louis for the first time with the New York Rangers on Thursday
"It will be an emotional game, but we have a game (Wednesday), too, so it will be quick," Tarasenko told The Athletic. "I'm glad it's a back-to-back."
Tarasenko ranks fifth in career goals (262) for the Blues and fifth in career points (553). He spent 10 1/2 years in St. Louis and played a key role in the Blues' 2019 Stanley Cup run
"Vladdy was here a long time," Blues coach Craig Berube said. "He did a lot of great things for the organization. He was part of the Cup-winning team. I always look forward to seeing those guys.
Blues general manager Doug Armstrong sent Tarasenko and defenseman Niko Mikkola to the Rangers on Feb. 9 for winger Sammy Blais, defensive prospect Hunter Skinner, a conditional first-round pick in the 2023 NHL Draft and a fourth-round selection in 2024
Rangers general manager Chris Drury targeted Tarasenko for the veteran's playoff experience in addition to his scoring touch
Tarasenko said, "In St. Louis, we did a good job of building the team mindset about making playoffs. You're a young guy and you think you're going to be there every year. So I don't think you treat it as normal when you miss, like we did in 2018. And then we come back the next year with the right mindset, good team identity and we have success."
The Rangers (46-21-11, 103 points) are coming off a 6-3 home victory against the Tampa Bay Lightning on Wednesday. New York has earned points in 13 of its past 15 games (11-2-2) and has won nine of its past 12 (9-2-1)
Since Dec. 5, the Rangers are 35-11-6 for 76 points
The Blues (36-35-7, 79 points) defeated the visiting Philadelphia Flyers 4-2 on Tuesday. They have earned points in nine of their past 11 games (7-2-2)
St. Louis expects former Rangers winger Pavel Buchnevich to be back in the lineup after he missed the past four games due to an upper-body injury. He will center the No. 2 line between Jakub Vrana and Jake Neighbours while continuing to learn a new position
"(Buchnevich has) played well there for a guy who hasn't played that position since he was a kid," Berube said. "He's done really well. Now there's still things, timing and things like that, he's probably not satisfied with. Faceoffs, things like that that he wants to be better at. But it takes time."
Top Blues center Robert Thomas remains sidelined with an upper-body injury, so Brayden Schenn will center the top line between Brandon Saad and Jordan Kyrou
Berube has been pleased with his fourth line of Alexey Toropchenko, Tyler Pitlick and Nathan Walker. Toropchenko has four goals in his past eight games, and the unit has shouldered more checking responsibility.
"They're going to go out and do the right things," Berube said. "They're going to pay a price to block shots, do all the things right to keep the puck out of our net."
For the Rangers, Patrick Kane missed the Wednesday game with a lower-body injury and defenseman Jacob Trouba exited the contest due to an upper-body injury in the first period
The third-place Rangers sit three points behind the second-place New Jersey Devils in the Metropolitan Division with four games remaining
--Field Level Media