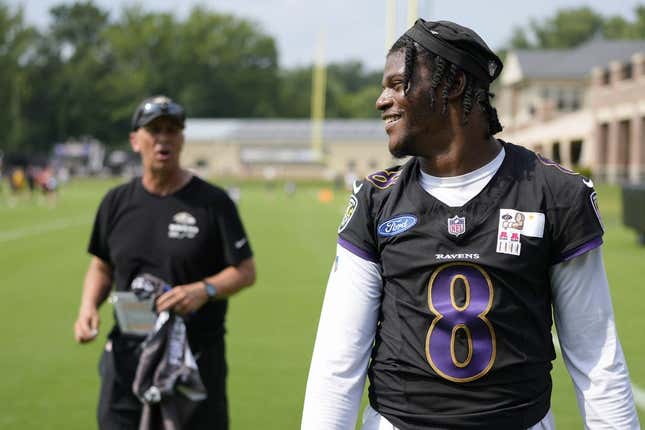 In his first season as offensive coordinator of the Baltimore Ravens, Todd Monken is making sure to build some rapport with his star quarterback.
How running an NFL team is like running a restaurant | Chef Emeril Lagasse
Lamar Jackson, fresh off signing a five-year, $260 million contract in the offseason, said he has shown Monken plays and receiver routes he likes and Monken has implemented them into Baltimore's offense at training camp.
On the TV broadcast of Baltimore's preseason win over the Philadelphia Eagles on Saturday, Jackson spoke about his budding relationship with Monken in an interview.
"It's great," Jackson said. "I've been sending him plays of stuff I've been seeing, and he's been putting them in practice, and they're working. So it's like, I'm glad he's listening to me, man."
Come Tuesday, after a joint practice with the Washington Commanders, Jackson told reporters Monken and the coaching staff have been receptive to using some particular routes he saw online.
"I was just on social media, and I saw a couple of routes, and I sent it to (quarterbacks) Coach Tee (Martin) and he was like, 'I'm going to relay the message to Coach (Todd) Monken,'" Jackson said, according to ESPN. "Coach Monken liked the play, so he put it in practice. We didn't show it today, but I feel like it will be good for us."
Jackson, who won NFL Most Valuable Player honors in his second season, is no longer a fresh face in the league. He enters his sixth NFL campaign with his contract situation settled — and rising expectations to bring the Ravens further into the playoffs. Baltimore has won one playoff game since drafting Jackson in 2018.
Due to injuries and illness, Jackson has not finished the regular season in either of the past two years.
Head coach John Harbaugh encourages Jackson interest in suggesting plays.
"He's a guy (who) thinks about football a lot — it's on his mind — and I think he always had his ideas," Harbaugh said Tuesday. "He had a couple good ones, I can tell you that."
—Field Level Media