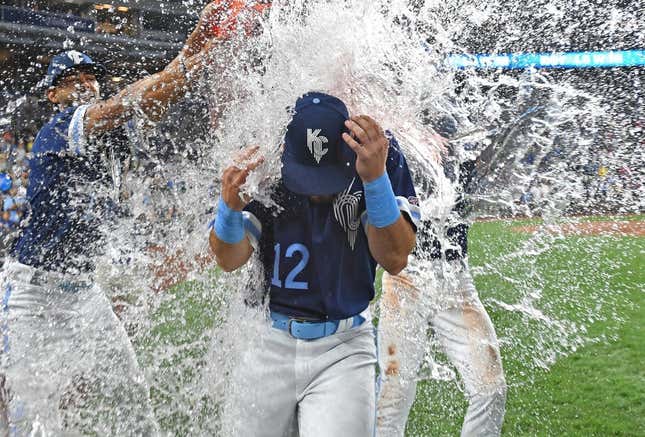 After a decisive 13-2 win in the series opener, the Kansas City Royals will look to keep the momentum on their side Saturday night when they continue their three-game set against the visiting Boston Red Sox.
How running an NFL team is like running a restaurant | Chef Emeril Lagasse
Amid its struggles, Kansas City (42-94) has received a major glimpse of the future. Infielder Nick Loftin was recalled Friday from Triple-A Omaha and became the seventh player to make his MLB debut with the team this season.
Loftin, 24, went 2-for-3 with an RBI double, a run and walk in his debut for the Royals, who had a season-high 17 hits Friday against Boston (69-66), which lost its fifth straight game.
"It was unbelievable," said Loftin, the Royals' first-round draft pick in 2020 out of Baylor. "This is a testament to ... everyone who's played a part in my journey. When I first stepped up there, I took my time and just wanted to enjoy the moment."
Loftin is the No. 5 prospect in the organization, according to MLB.com.
Loftin batted .270 with 14 home runs, 56 RBIs and 41 runs in 82 games this season in Omaha. Showing his versatility, he made starts at four different positions as well as the designated hitter slot.
"The benefit of getting major league at-bats and getting acclimated to the day-to-day major league routine and getting a little more comfortable here outweighs the extra at-bats he might get at Triple-A," Royals manager Matt Quatraro said.
The Royals' offense on Friday included back-to-back homers by Bobby Witt Jr. and Salvador Perez in the first inning. Perez went deep again in the sixth and finished with four RBIs.
"It was a great way to start with the two homers, but what was better for me was we were able to put good at-bats together throughout the game, and not rest on being up 7-0," Quatraro said.
Rookie Alec Marsh (0-7, 5.47 ERA) will make his eighth career start and first against Boston. His last four outings have been in relief, including a loss to the Red Sox on Aug. 10 despite allowing just two runs on six hits in five innings.
Prior to Boston losing again on Friday, manager Alex Cora was unwilling to give up on his team's slim playoff hopes.
"We're not waving a white flag here," Cora said. "The same way we lost four games in four days we can gain it back right away. We've got to keep playing."
The game that followed was another difficult one for Boston, which has been outscored 46-17 during its current five-game skid.
Alex Verdugo's two-run homer in the eighth inning broke Royals starter Jordan Lyles' bid for a shutout.
Four of Verdugo's 13 homers this season have come in the last eight games.
Scheduled Saturday starter Tanner Houck (3-8, 4.93 ERA) has pitched at least five innings in 11 of his 14 starts this season, though the right-hander lasted just four frames in a 7-4 loss to the Los Angeles Dodgers last Sunday.
The Red Sox surely could use any type of length after James Paxton was relieved after just 1 1/3 innings Friday in one of the shortest outings of his career.
"At this time, at this stage, a lot of guys' stuff is trending backwards," Cora said.
Saturday will mark Houck's first career start against Kansas City. He is a St. Louis native and Missouri graduate.
—Field Level Media