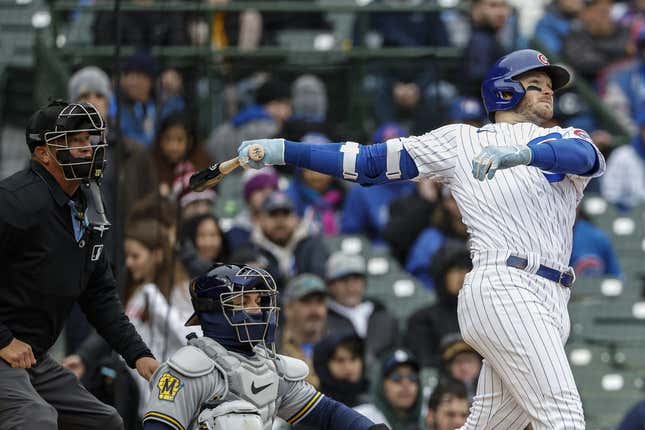 Ian Happ looks to continue his domination at Great American Ball Park when the Chicago Cubs face the Cincinnati Reds on Wednesday afternoon in the rubber game of a three-game series
'Soccer fandom is full of gatekeepers' says Ted Lasso actor Brendan Hunt
Happ, who was an All-American at the University of Cincinnati, reached base a career-high five times and went 3-for-4 to lead the Cubs to a 12-5 rout o Tuesday. Happ is batting .322 with 16 home runs and 37 RBIs in 45 lifetime games at Great American Ball Park
The Cubs have two newcomers who struggled in their opening series vs. Milwaukee before breaking through in the first two games of the Reds series. Cody Bellinger and Eric Hosmer were a combined 0-for-18 against the Brewers at Wrigley Field
Bellinger snapped an 0-for-11 with a three-run homer in his first at-bat on Monday, then went 3-for-5 on Tuesday. Eric Hosmer was 0-for-7 against the Brewers before a 3-for-5 effort Monday and a 2-for-5 outing Tuesday.
"The first one's always nice to get out of the way," Hosmer said. "It's like a sense of relief. It feels good to get that first one out of the way, add on to it, but it just feels good to contribute to the offense."
Cubs manager David Ross said, "You want to get that first (hit of the season) out of the way. You press a little bit, which turns into a little bit of adrenaline and you're jumpy at the pitcher. And things can kind of break down.
The Reds also have had a new face step up and contribute in the first week
Jason Vosler continues to make the most of his chance filling in for Joey Votto (rehab from left biceps and shoulder surgery) at first base for Cincinnati. The 29-year-old has homered in three straight games, including the game-winner in the Reds' 7-6 victory over the Cubs on Monday
Vosler came off the bench on Monday when Jose Barrero left due to right hamstring tightness and scored as a pinch runner in the second inning before hitting a go-ahead, three-run shot in the fifth. His snare of a line drive was the final out of Cincinnati's win, ending a ninth-inning rally.
"It makes it easier when you just kind of try to do a little things right and not try to do too much," Vosler said. "And a lot of times when I try to do too much is when I struggle. So that home run (Monday), I was just trying to get a single, trying to get a hit and get a man in, and good things happen when you don't try to do too much."
Marcus Stroman (1-0, 0.00 ERA) will start for Chicago on Wednesday after beating Milwaukee on Opening Day with six scoreless innings. Dating back to Aug. 23, 2022, the right-hander has allowed fewer than two runs in six of his past eight starts, producing a 1.88 ERA in that stretch.
In two starts against Cincinnati in 2022, Stroman was 2-0 with a 1.64 ERA and 15 strikeouts in 11 innings. He is 4-1 with a 2.55 ERA in six career starts vs. the Reds, having held them to a .205 average
The Reds will counter with Hunter Greene (0-0, 8.10 ERA), who is coming off a no-decision in Cincinnati's 5-4 loss to the Pirates on Opening Day
During his rookie season of 2022, Greene was 2-1 with a 4.80 ERA in three starts against the Cubs. He allowed eight runs on 11 hits over 15 innings, striking out 19 and walking five
--Field Level Media