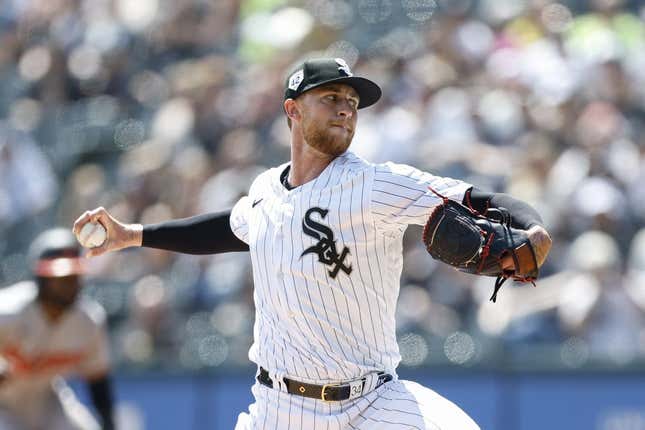 The Chicago White Sox have yet to win a series in six tries this season
Checking that box won't get any easier when Chicago opens a three-game series at the Tampa Bay Rays on Friday night
Bass' ERA stinks, but not compared to who he is off the mound | Worst of the Week Countdown
The Rays are off to a 16-3 start with a plus-83 run differential, the largest through 19 games in the modern-baseball era
Tampa Bay also leads the majors with 42 home runs and 133 runs scored.
"We're doing good things," Rays manager Kevin Cash said. "Hopefully, we just continue.
The White Sox are coming off a 5-2 loss to the Philadelphia Phillies on Wednesday afternoon, dropping them to 0-5-1 in series play this season
"Every team I've ever been on, or a part of, you have streaks like this, whether it's at the start, middle, end," White Sox manager Pedro Grifol said. "I'm not frustrated with these guys. I trust these guys. I trust the work they're putting in. We just have to keep going, keep battling.
Chicago has been without shortstop Tim Anderson the past eight games and third baseman Yoan Moncada the past nine.
Anderson was an American League All-Star the past two seasons and Moncada batted .315 with 25 home runs in 2019, but his power numbers have dropped each season since. Anderson batted leadoff and Moncada in the cleanup spot the last time they played together on April 9.
Chicago lost that game 1-0 to the Pittsburgh Pirates and has averaged just 3.4 runs in the nine games since.
"These guys aren't going up there trying to make outs," Grifol said. "They're preparing and they're going up there to compete and it's not happening."
The Rays, meanwhile, have homered in every game so far this season, one short of the major league record of 20 straight games to start the season by the Seattle Mariners in 2019
"Hitting is extremely contagious, and it feels like when one guy gets going, the next guy just wants to hop on the train and keep it rolling," Rays second baseman Brandon Lowe said. "It's just that kind of thing. It turns into a little bit of a feeding frenzy.
Michael Kopech (0-2, 6.32 ERA) is scheduled to start the series opener for Chicago.
Kopech has pitched well enough in his past two starts to earn his first victory.
He limited the Pittsburgh Pirates to one run and two hits in six innings on April 9, but the offense didn't provide any support in the 1-0 loss.
He came back last Saturday and took a 2-1 lead into the sixth inning against the visiting Baltimore Orioles, but gave up a leadoff homer and then was removed after walking the next batter.
Kopech ultimately surrendered three runs and six hits in five innings of the 7-6 win in 10 innings.
He was pleased with his performance, especially since his only effective pitches were his fastball and slider.
"At least a third pitch, if not four pitches, would have been nice," Kopech said. "I probably would have been able to go six or seven instead of just into the sixth."
Kopech has made one start against the Rays in his MLB career and blanked them on one hit over five innings in a 3-2 win on April 16, 2022
Reliever Calvin Faucher (0-0, 4.15) will make his second straight start for the Rays and could be asked to pitch as many as four innings
The right-hander has thrown just one scoreless inning of relief against the White Sox in his career
--Field Level Media