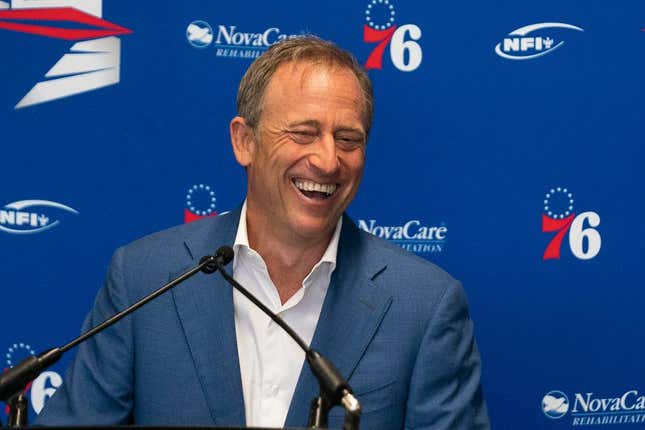 NFL owners voted to unanimously approve the $6.05 billion sale of the Washington Commanders from Daniel Snyder to Josh Harris on Thursday at the JW Marriott hotel in Bloomington, Minn
Is Texas or Florida State a bigger national title contender? | Agree to Disagree
Harris, the principal owner of the Philadelphia 76ers and the New Jersey Devils, is from Chevy Chase, Md., and outbid multiple groups vying to own the club Snyder purchased for $800 million in 1999. The purchase price included what was then known as Jack Kent Cooke Stadium and became FedEx Field.
A formal approval vote from the NFL's 32 current owners to finalize the sale to Harris required a "yes" vote from at least 24 sitting owners.
The parties are granted a deadline of August 1 to fully finalize the sale.
Dallas Cowboys owner Jerry Jones called it a "great day" for the NFL.
The Commanders are the second NFL franchise to change hands in 15 months. The sale of the Denver Broncos was also approved by unanimous vote in April 2022. The Walton-Penner group paid $4.65 billion to buy the franchise from the Pat Bowlen estate
Indianapolis Colts owner Jim Irsay suggested owners could force the removal of Snyder based on a pattern of accusations and investigations around his behavior or business practices, which caught the attention of the Washington, D.C., Attorney General.
Snyder's tumultuous and scandalous reign as an owner was also one of the most litigious in league history. More than 50 former employees accused Snyder of workplace misconduct or sexual harassment.
He reached settlements in multiple lawsuits and agreed in November 2022 to pursue a sale of the franchise.
Current head coach Ron Rivera described his emotions around the change in ownership as relief, even with potential changes in the front office and decision-making roles under Harris.
"Kind of relief," Rivera told USA Today. "It really seemed like a load was lifted because everybody was on pins and needles for the last couple of months."
Not all of the Snyder-related strings tied to NFL business and public relations were cut with the sale of the franchise.
Commissioner Roger Goodell has said findings of the investigation into Snyder's alleged misgivings led by former U.S. Attorney Mary Jo White would be released even when the team is sold. White met with owners in Minneapolis on Thursday afternoon.
ESPN reported that Snyder's attorneys informed owners on Thursday that "unresolved" issues remain before the outgoing owner signs off on the information being made public.
--Field Level Media