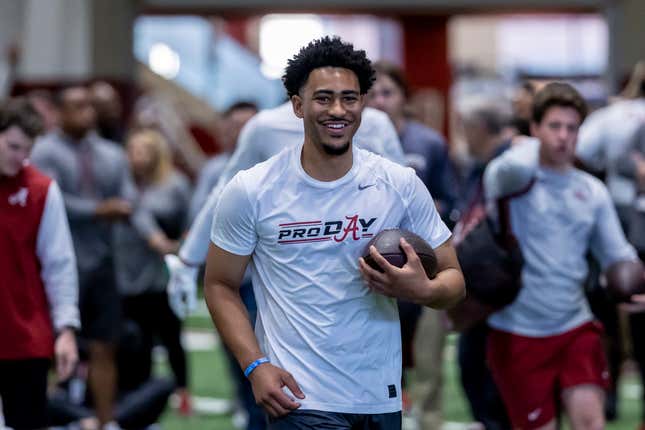 For the 27th time since 1967, the No. 1 overall pick in the NFL draft will be a quarterback. Which one, the Carolina Panthers aren't quite ready to say.

5 Richest active NFL players | Money Mondays
General manager Scott Fitterer, groomed under John Schneider and the Seahawks' scouting department when third-round pick Russell Wilson proved to be solid gold in relative draft terms, has been down the road before in Carolina, too.
Fitterer is under orders from Panthers' ownership to find the franchise quarterback by any means possible. He swung a trade with the Chicago Bears in March to move up from the No. 9 spot to be "able to control it from the top."
Until the Jacksonville Jaguars selected Travon Walker No. 1 in 2022, a four-year run of quarterbacks at the top produced mixed results. Trevor Lawrence (2021, Jaguars) and Joe Burrow (2020, Bengals) are already playoff quarterbacks — Burrow a Super Bowl runner-up with two AFC Championship game appearances — and Kyler Murray (2019, Cardinals) and Baker Mayfield (2018, Browns) have also been to the postseason but with less consistent results. Mayfield had a layover in Carolina last season in a trade with the Browns and begins a tour with the Tampa Bay Buccaneers in 2023 representing his fourth stop since the end of the 2021 season.
The Panthers aren't the only team thirsty for a fixture at the position. The Houston Texans (No. 2, No. 12), Indianapolis Colts (No. 4), Seattle Seahawks (5), Detroit Lions (6), Las Vegas Raiders (7), and Atlanta Falcons (8) all hosting top quarterback prospects in this class and could take a swing at replenishing the depth chart in the first round.
There have been five drafts in which four quarterbacks were chosen within the top 15 selections, including 2021 and 2018.
With demand as high as ever, here's a review of the 2023 draft supply at quarterback:
1. Bryce Young, Alabama
Projected Pick: 1
Power Points: Young's size and weight (5-10 1/8, 204 pounds) invite durability questions even without an injury history because he's a far cry from the prototype at the NFL's most important and challenging position. While there are exceptions, there are also injury incidences with each of the most prominent "small" quarterbacks, from Murray (torn ACL in 2022), Mayfield (multiple injuries in 2020, 2021) or retired Drew Brees (separated shoulder) that might give a team pause. But Wilson, who measured half an inch taller than Murray at 5-10 5/8, has never had a major injury and Mike Vick's playing style at 6-0, 199 pounds was a hazard.
Young missed one of his possible 37 career games at Alabama (2022, sprained shoulder).
Scouts love the mental makeup that helps Young thrive. He already carries himself like a professional and the type of poster boy personality and humble leadership team ownership and fan bases can firmly stand behind.
Groomed for success at California's high school quarterback factory — Mater Dei HS in Pasadena, which produced Matt Barkley and Matt Leinart plus current Lions WR Amon-Ra St. Brown — Alabama coach Nick Saban called him an "all-time leader" and his college production speaks in exclamatory terms: Young had 80 touchdowns and just 12 interceptions as Crimson Tide quarterback, and he left Tuscaloosa as a Heisman Trophy winner and national champion.
Last Word: He's not the only QB in the 2023 draft, but he's definitely the one.
Projected Pick: 4
Precision decision: Another California kid, Coleridge Bernard (C.J.) Stroud IV nearly rode a late rise on the recruiting circuit to Georgia, where he could've dramatically shifted the Stetson Bennett storybook ride in Athens. He had clipboard duty behind Justin Fields as a redshirt in 2020 and then was a two-time Big Ten Offensive Player of the Year, claiming the silver football for tossing 85 total touchdowns and 12 interceptions and completing an insane 69.4 percent of his 830 pass attempts. Bigger than Young but by no means bulky at 6-3, 210, Stroud looks like a wide receiver in street clothes but also missed just one college game (shoulder).
His right arm is more of a precision tool than a cannon, but he can make all the throws. There's a poetry to Stroud's dropback and release and his ability to parachute the ball over coverage down the field and place it on the target in traffic stands as the eye-catching NFL QB trait that gets him drafted. He bears no similarity to Fields as an athlete in or around the pocket and speed rarely shows up with defenders in pursuit. Potent as a sniper in the pocket, Stroud won 21 games in 25 starts in two seasons and had better per-game averages than Burrow (LSU record 305.9 yards, 2.8 TD passes per game) with 324.9 and 3.4.
Last Word: An incomplete quarterback, but Stroud stands out as the best pure passer in this class.
Projected Pick: 7
Delta, Bravo: Deciphering whether Richardson is the second coming of Cam Newton or an athlete with superhuman arm strength brings the inexact science of scouting under the microscope. All of the positives are scintillating. He's bigger than most linebackers and faster than many wide receivers at 6-4, 245 with a 4.43 40 time. Testing ball speed on short and long throws is John Elway-like, and the right coaching staff couldn't help but picture the man-child in a Jalen Hurts-type role operating a system revolving around RPOs. A believable follow-me personality who takes ownership of his inconsistency at Florida, there's a maturation and humility to Richardson balanced by the open desire to collaborate and yearning to improve. Teammates will follow Richardson.
Then there's the tiny devil on every general manager's shoulder poking the play button on his 33 percent completion night at Florida State or perhaps a skidding 5-yard pass with a receiver running clean on a 10-yard crosser. Less production means more projection, a hope for the best type of proposition filed under make-a-wish items that cost GMs jobs. Three games into the 2022 season, Richardson had five interceptions before his first TD pass (41 of 77). There's a strong argument he failed his two stiffest tests of NFL readiness in starts against pro-prospect-packed Georgia that were borderline disastrous.
In a 42-20 loss in 2022, he was 18-of-37 for 271 yards, and a TD. He rushed 11 times for 19 yards and was sacked three times.
In a 34-7 loss in 2021, he went 12-of-20 for 82 yards, 0 TDs, and 2 INTs. He was sacked twice, and rushed 12 times for 26 yards.
In fairness, Young wasn't his best vs. Georgia in a second game facing the Bulldogs in 2021: four sacks, two interceptions but 369 yards in the 33-18 national championship game defeat. He carved up the same defense in the SEC title game (four total TDs, 421 yards passing, zero sacks, and no picks) five weeks prior.
When considering a "bust" factor, scouts arguing Richardson isn't ready, might never be the total package, or needs years of training could be proven correct.
Counterpoint: What if he hits the NFL runway with all of the unicorn athlete natural tools, bundled promise and drive displayed over the past year and takes flight?
He's just 20 years old and started only 13 games in college. Scouting buzzwords — potential and upside — are insufficient to properly emphasize the reach of Richardson's ceiling as an NFL quarterback.
Last Word: One GM, likely in the top 10, stakes his job — and perhaps his head coach's, too — on the educated and researched, convicted and cross-examined opinion that Richardson's undeniable elite athleticism and potential accumulatively equal not only starter material, but star status. And he might be right.
Best of the Rest
4. Will Levis, Kentucky
Projected Pick: 11
Only two starts and a redshirt season at Penn State pushed Levis to Kentucky, where he became a team captain because somehow his Wildcats teammates forgave his sinful indulgence of mayonnaise in his coffee (just once, he says). Quirky, confident and built for the part of pro quarterback, Levis lands in the NFL at more of a developmental stage facing the same type of test and steep expectations and learning curve that sat former first-rounders Jake Locker (Titans), Christian Ponder (Vikings) and Josh Rosen (Cardinals) on their rears. There are some similarities to Ryan Tannehill and Carson Wentz, untamed athletes who've experienced highs and lows in multiple stops in the pros after being drafted too high. To that end, Levis was under constant pressure from the pass rush at UK (nearly 30 percent of his pass-play snaps in 2022), a fault not entirely his own, and there are other signs he'll need a high number of reps before stepping into a starting role.
5. Hendon Hooker, Tennessee
Projected Pick: 18
Barring a torn ACL 11 games into his sixth college season and relatively advanced age (25), the former Virginia Tech quarterback might have been in the conversation as the top arm in the '23 class. There are some decision-makers who believe he'll be the best of the bunch. For Hooker to take off, he'll need a built-to-suit offensive system and patience as he returns to health and evolves to a pro scheme.
Second- and Third-Day Shopping List
6. Jake Haener, Fresno State
7. Aidan O'Connell, Purdue
8. Clayton Tune, Houston
9. Tanner McKee, Stanford
10. Dorian Thompson-Robinson, UCLA
—By Jeff Reynolds, Field Level Media