NFL executive vice president Eric Grubman was a recent guest on on the Bernie Miklasz Show, and he was there to talk about Rams owner Stan Kroenke's ongoing efforts to move the team to Los Angeles. Grubman talked about the situation for about 40 minutes, and oh man did he say some infuriating stuff.
At one point during the interview, Miklasz claims that if he was an uber-rich sports owner like Stan Kroenke, who is worth over $7 billion, he would at least consider building a new stadium with more of his own money instead of asking the people in his city to fork over $400 million. Grubman waves this hypothetical off as a ludicrous fantasy, and goes on to say that it's unfair to bring up Kroenke's net worth when talking about how much money he's squeezing out of the public. Get a load of this shithead:
I don't believe you, and you don't believe yourself. What you just said is, "If I'm worth $7.2 billion, the difference between $400 million and $300 million as a public contribution isn't going to change anything, and I'm going to work with them at $300 million even if it's not $400 million." I call B.S. on that

[...]

You've always made the business argument, and now what you're trying to do is make a business argument with emotion. It's not gonna fly.
[...]

That's not life. Life is: [Kroenke's] got options. Everyone has options, and they have to weigh those options against one another, and it's not fair for you to bring up a person's net worth to say that makes the difference between $400 million and $300 million.
Good argument, guy.
G/O Media may get a commission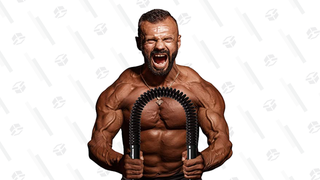 10% off
Zenooze Boa Power Twister