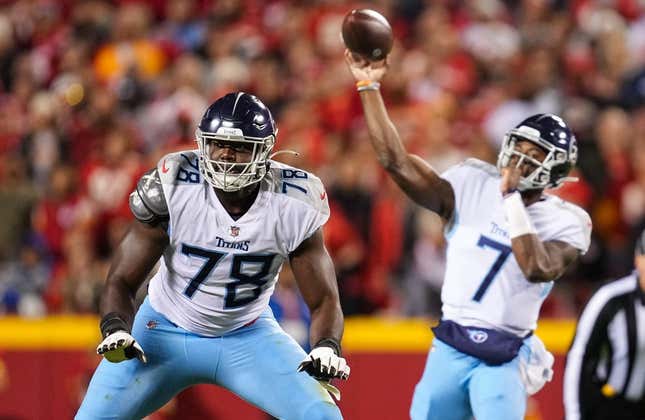 Three players were suspended for the entire 2023 season for betting on NFL games last season and Tennessee Titans starting right tackle Nicholas Petit-Frere received a six-game suspension for betting on other sports at the team facility
How running an NFL team is like running a restaurant | Chef Emeril Lagasse
Indianapolis Colts cornerback and kick returner Isaiah Rodgers and defensive end Rashod Berry along with free agent Demetrius Taylor are "suspended indefinitely through at least the conclusion of the 2023 season for betting on NFL games in the 2022 season. These players may petition for reinstatement at the conclusion of the 2023 season," the league said Thursday
Petit-Frere was banned for the "first six regular-season games of the 2023 season for betting on non-NFL sports at the club facility," the NFL said.
He is permitted to participate in all offseason and preseason practices and games.
Along with recent suspensions of multiple Detroit Lions players for gambling, the NFL said it reiterated the league policy with all teams and said the rules are "annually reviewed with all NFL personnel, including players, and prohibits anyone in the NFL from engaging in any form of gambling in any club or league facility or venue, including the practice facility."
Petit-Frere said he didn't know he was breaking rules.
"The betting I engaged in was NOT NFL related and was legal under Tennessee law," Petit-Frere said in a statement. "It is only being sanctioned because it occurred at the Titans facility. I did not knowingly break the rules," the statement went on. "Even after attending a league presentation, I was unaware about the specifics around placing bets from a team facility.
Rookie Jaelyn Duncan, a sixth-round pick in this year's draft, is listed behind Petit-Frere on the depth chart.
In April, the NFL suspended five players for violating its gambling policy. Detroit Lions receiver Quintez Cephus and safety C.J. Moore and Washington Commanders defensive end Shaka Toney were handed indefinite bans for betting on NFL games.
Detroit receivers Jameson Williams and Stanley Berryhill were given six-game suspensions for betting on non-NFL events from inside an NFL facility.
--Field Level Media