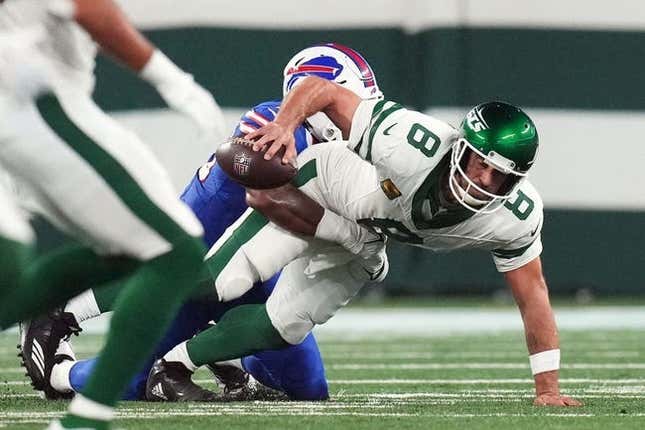 Two days after Aaron Rodgers went down with a torn Achilles, the NFLPA asked the league to eliminate artificial turf playing surfaces.
How running an NFL team is like running a restaurant | Chef Emeril Lagasse
NFLPA Executive Director Lloyd Howell said in a statement Wednesday that the players prefer natural grass fields, defining the request as a safety issue.
"Moving all stadium fields to high quality natural grass surfaces is the easiest decision the NFL can make. The players overwhelmingly prefer it and the data is clear that grass is simply safer than artificial turf. It is an issue that has been near the top of the players' list during my team visits and one I have raised with the NFL," Howell said. "While we know there is an investment to making this change, there is a bigger cost to everyone in our business if we keep losing our best players to unnecessary injuries.
"It makes no sense that stadiums can flip over to superior grass surfaces when the World Cup comes, or soccer clubs come to visit for exhibition games in the summer, but inferior artificial surfaces are acceptable for our own players. This is worth the investment and it simply needs to change now."
Green Bay Packers left tackle David Bakhtiari posted his opinion to Twitter after Rodgers went down Monday night just four snaps into his tenure with the New York Jets.
He expanded on his take in an appearance on "The Rich Eisen Show."
"It's been weighing heavy on me," Bakhtiari said. "You're seeing (players) voice their displeasure with certain surfaces. When it is grass, maintaining a proper level of grass. With the artificial — there's not a need for it. It is aesthetically pleasing for TV. It's borderline carpet that's nice to put platforms on so you can host concerts and performances easy.
"If we keep advocating for player safety this is a disservice. ... From a first-person perspective, it sucks. No one enjoys playing on it. Look at football for its origin. We played on grass. It's meant to be on grass. Quit ignoring it and address it now."
—Field Level Media