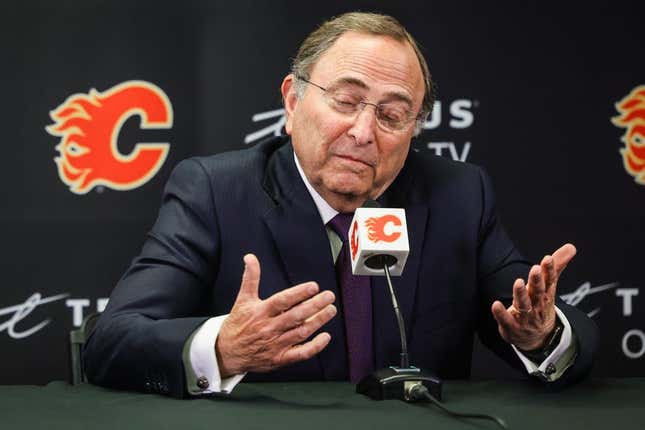 NHL commissioner Gary Bettman denied data and medical research point to a direct link between hockey and the degenerative brain disease chronic traumatic encephalopathy (CTE).
Bass' ERA stinks, but not compared to who he is off the mound | Worst of the Week Countdown
"We listen to the medical opinions on CTE, and I don't believe there has been any documented study that suggests that elements of our game result in CTE. There have been isolated cases of players who have played the game [who] have had CTE. But it doesn't mean that it necessarily came from playing in the NHL,"
Bettman said in an interview with NPR's Morning Edition.
Boston University and CTE Center research appears to contradict Bettman. In a recently released study, the joint research data revealed an increased chance of CTE of around 23 percent for each additional year playing hockey.
Neuroscientist Dr. Chris Nowinksi of the Concussion Legacy Foundation in Massachusetts, a leading researcher of CTE and advocate for head injury awareness for athletes, responded to Bettman's interview statements via Twitter on Wednesday.
"NHL, Gary Bettman still claim, in 2023, there is no connection between hockey & #CTE. @NIH, @CDCgov,@NHSuk,@AFL,@PFA, and even @NFL say otherwise. Guess which one is gaslighting the public? Time for government intervention," he wrote.
Bettman was also pressed on giving players and team the option of participating in NHL Pride and Inclusion nights.
"Clubs make their own decisions," he said. "To the extent that they have Pride Nights, the elements that they put into them have always been left up to the clubs, and it's always been left to the players as to who wants to participate. And overwhelmingly, our clubs and our players support Pride Night and what it stands for. And I don't think that the notion that a couple of players on each team or on some teams we're not comfortable wearing pride jerseys is not an indictment. To the contrary, you have to be tolerant of all views and all expressions. And sometimes respect and endorsements are not the same thing."
--Field Level Media