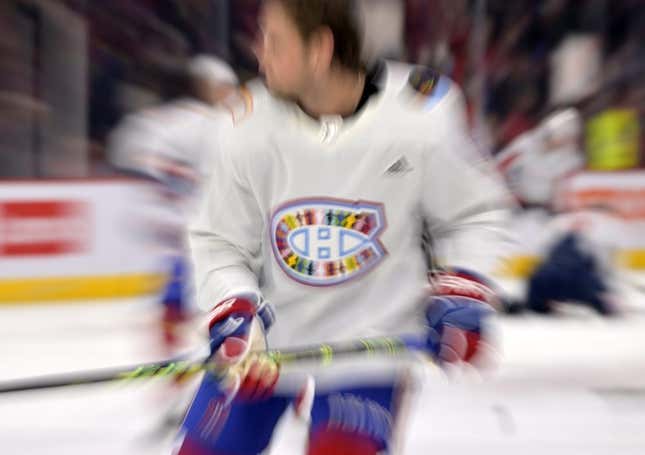 NHL commissioner Gary Bettman and the league owners are removing Pride jerseys next season.
How running an NFL team is like running a restaurant | Chef Emeril Lagasse
The league's Board of Governors decided to do away with all "specialty jerseys" worn before games during the 2023-24 season.
"I suggested that it would be appropriate for clubs not to change their jerseys in warmups because it's become a distraction and taking away from the fact that all of our clubs, in some form or another, host nights in honor of various groups or causes, and we'd rather those continue to get the appropriate attention that they deserve and not be a distraction," Bettman said.
Pride night themes typically included rainbow-colored jerseys and stick tape.
It was only one theme the NHL celebrated last season depending on the market. The military, heritage and past heroes were all included by some teams that had players don special threads to match the promotional events.
Backlash met several dedicated jersey nights, Bettman said. The NHL does plan to permit teams to continue dedicated events and game-day "theme nights," including Pride night. Last season, the Chicago Blackhawks, St. Louis Blues, Minnesota Wild and other teams decided not to wear the warmup sweaters due to public objections.
Several Russian players, citing increased tension around anti-gay laws in their home country, refused to wear the warmup sweaters.
Buffalo Sabres defenseman Ilya Lyubushkin, a 28-year-old from Russia, did not participate in pregame festivities when the team held its Pride Night. Teammates, including captain Kyle Okposo, said it was important to frame Lyubushkin's decision in proper context.
"We support (Lyubushkin) in this room, and we want to make sure that he's comfortable and we respect his decisions," Okposo said. "I have empathy for my teammate, for Boosh in the situation he's in, but think about it: If there's a closeted gay member of a team, and you have to have empathy for that person, too, in that situation. We have to realize that and that's part of being accepting, and that's why we want to be accepting."
June is recognized as Pride Month, but Bettman said the Board of Governors did not have one specific group or cause in mind in shelving the specialty pregame sweaters.
"I agree those are legitimate concerns, but in the final analysis, all of the efforts and emphasis on the importance of these various causes have been undermined by the distraction in terms of which teams, which players. This way, we're keeping the focus on the game and on these specialty nights, we're gonna be focused on the cause," Bettman said.
--Field Level Media