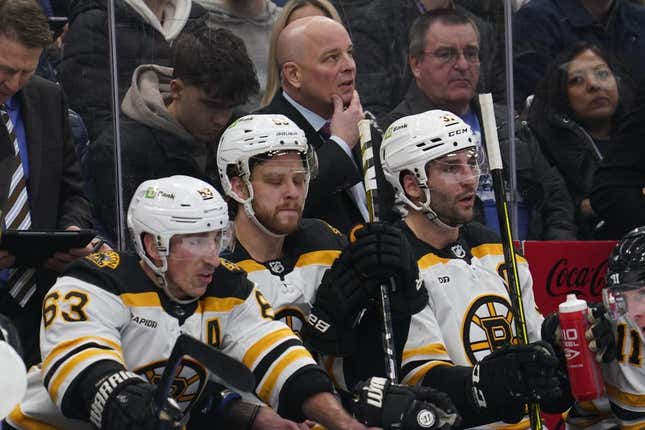 The Boston Bruins will continue a four-game Western Conference swing when they head north of the border to face the Vancouver Canucks on Saturday.
After putting together a two-goal third period to finish Thursday's wild 6-5 win in Seattle, the NHL-leading Bruins will aim for their sixth straight victory and 45th of the season.
Boston did not lead until nearly halfway through a second period that featured three goals for each team.
Jake DeBrusk tipped in Thursday's winning goal with 1:38 left in regulation, marking his third goal in as many games since returning from injuries.
"We have an older group, which I don't think you can ever discount," Boston forward Brad Marchand said. "I think it shows through in times where there's a lot of intensity and pressure."
Boston has won 10 games when tied after two periods this season.
As the Bruins prepare for the pressure-filled grind of the Stanley Cup playoffs, they are set to become an even deeper club.
Boston acquired rugged forward Garnet Hathaway and defenseman Dmitry Orlov from the Washington Capitals in a trade Thursday.
Both players were expected to join their new team Friday evening and could play in Vancouver. The same is true about forward Tomas Nosek, who has been out since breaking a bone in his foot on Jan. 19.
Hathaway has ties to New England as a native of Kennebunkport, Maine, and a Brown University graduate.
"With Hathaway, it's his grit and the way that he plays the game," Bruins captain Patrice Bergeron said. "He's a dog on the bone just every shift, and finishing his checks. He's really hard to play against. I think he's a perfect playoff type of player and he's going to fit really well with us."
Bruins coach Jim Montgomery will have to tinker with an experienced lineup that has been incredibly stable throughout a historic season, but he believes the new additions will serve the team well.
"From a depth perspective (and) a toughness perspective," Montgomery said of how his team became better as a result of the additions. "We addressed a lot of things in one trade."
Linus Ullmark (29-4-1) will start in Boston's goal after Jeremy Swayman earned Thursday's win.
The Canucks, meanwhile, are 2-0-1 in a three-game span after coming from behind for Thursday's 3-2 overtime win at St. Louis.
Elias Pettersson scored with 15 seconds left in the extra session, which Andrei Kuzmenko forced with a tying goal in the final minute of regulation.
Pettersson, who also dished out two assists in the game, has 11 points during a four-game point streak.
"Honestly, we're not that far off as a team," Vancouver forward J.T. Miller said. "This is just a process, and we want to start doing the right things on a more regular basis. (But) for the most part, other than a couple of sour games, we've been playing pretty good."
Miller reached the 20-goal mark as part of a two-point effort, extending his own run on the scoresheet to four games.
Kuzmenko has logged points in five in a row and five goals over his last four games.
Overall, it was a team effort that impressed Rick Tocchet, who took over as the Canucks coach last month.
"We didn't have any passengers and when you're becoming a good team, that's what you need," Tocchet said. "Resilience is character and believing in things. It's not giving up and it builds character and a foundation."
Vancouver also gained additions to its forward lines this week, as Aatu Raty debuted Thursday. He was acquired from the New York Islanders along with Anthony Beauvillier in exchange for forward Bo Horvat on Jan. 30.
--Field Level Media