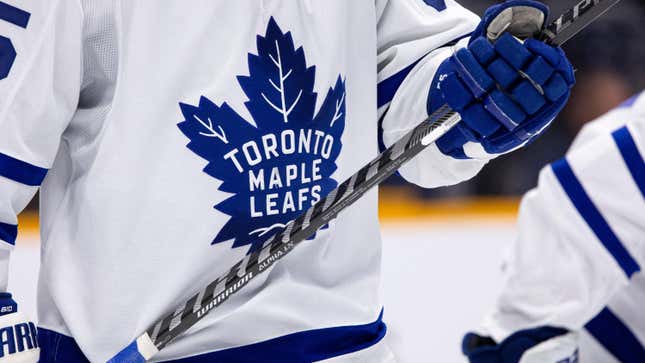 The rest of the employees of the Springfield Power Plant gathering around the control center of Sector 7-G, with Lenny narrating for everyone the normal practice, "Get ready everyone, he's about to do something stupid…" is what the NHL is now, gathering around The Six and wondering just what the Toronto Maple Leafs might come up with.

There was probably a good four minutes there, right after the Leafs finally conquered the hydra that had been the first round of the playoffs, where GM Kyle Dubas, coach Sheldon Keefe, and president Brendan Shanahan thought they could breathe. They had finally gotten where they never have before, they were clearly the most talented team left in the Eastern Conference, and once they threw off their stone of shame (if you'll allow me to exceed the Simpsons reference quota) then possibilities should have seemed limitless.
'We want Florida.' Indeed.
It took the Leafs, in their destiny to always blow their own face off, a little over a week to wash away all that oxygen, getting speedbagged by the Florida Panthers, a wildcard team in just five games. And now Toronto is even more of that air deprivation tank than it's ever been. Everyone's calling for major changes, something to reset their feelings and alleviate the feeling of dread that this roster now carries with it everywhere it goes.
It will certainly not help anyone at Scotiabank Arena that they just spit it to a team, the Panthers, that did just swap out their leading scorer from last season for a player who turned out to be better, the Jonathan Huberdeau-for-Matthew Tkachuk trade. Tkachuk is seen as the main driver of the Panthers' success (mostly but not all true), while Huberdeau's Flames fizzled out short of the playoffs in a Darryl Sutter cloud of misery. So now all Leafs observers just assume that's on offer for everyone, especially them.
But Leafs observers have been trying to solve the harrowing problem of, "We have too many good players" for years, and it's not solvable because it's not really a problem. Good players are the goal of any roster construction. There isn't always a playoff hero ready to be swapped in for the really good player a team has decided to jettison merely to be seen as "doing something."
The Leafs' problems are clear. Their defense is slow and unskilled. Any team in a playoff series that's dedicated to doing so can cut off the Leafs' defense from their forwards and make the latter not as effective. The blue line can't get out of trouble by itself, which means one or two forwards have to help out simply getting the puck out from behind their own goal line, 195 feet from where they do their best work.
Is Kyle Dubas to blame?
And yet this seems to be policy for GM Kyle Dubas. His midseason trades have been the likes of Mark Giordano, Luke Schenn, Jake McCabe…you can't get into fourth gear with that bunch, much less the fifth gear that the Leafs forwards want to and should play in and other teams wouldn't be able to deal with.
Should Dubas be fired? Probably. Not just for chum for freaks, but look at his drafting record. Dubas has had five whacks at the draft. It has produced 140 games of Rasmus Sandin, pieces for a trade for Jake Muzzin (something of another knuckle-dragger who is now crocked), 31 games of Nick Robertson (who is definitely not his brother Jason), and the hope of Matthew Knies.
While the Leafs haven't had high first-round picks in his time as GM, a front office still has to get players through the system and help at a cheap rate. The Penguins got back to Cup-level because Jake Guentzel, Bryan Rust, Brian Dumoulin, and some others came through to fill in spots behind the expensive guys. The Lighting found Cirelli or Cernak or they find a Nick Paul or Brandon Hagel. Dubas hasn't done any of this. Be it drafting or development, the Leafs don't get enough coming through, to go along with his fascination with d-men that skate like Eeyore.
The problem is that should the Leafs pull the trigger on Dubas, you better believe they'll go to another old head who "knows the way to the Cup" instead of another unproven GM with a different way of seeing the game, which is probably what they need. Dubas' problem, whether this is actually how he sees things or was bowing to pressures from elsewhere, was bending to old hockey ways and trading for crease-clearing road-graters on defense when he needed guys who can move and pass. The smart money would be Dubas' replacement leaning even more that way.
The trade market offers no way out
As far as a big trade, there's almost no way that the Leafs wouldn't jettison William Nylander or Mitch Marner for no more than 75 cents on the dollar. Even if they could admit to themselves that Morgan Rielly is not a #1 d-man for a team totally serious about Cup run, where are they getting that? There isn't one on the free agent market. The Oilers may want to wave the white flag on Darnell Nurse now, but he's 28 and proven what he is, which is basically a large bag of failed promise, and he costs $9 million a year.
Are they going to try and convince a decaying Drew Doughty to finally come home? Maybe if the Knights find themselves in cap hell again this summer they could try and poach Shea Theodore, which is exactly what the Leafs need. Devon Toews? There are some second-pairing solutions out there too like Dmitri Orlov, or Matt Dumba, or John Klingberg, but all are UFAs and either might be too expensive to install on the second pairing or have played themselves into second-pairing money because they've started sprouting weird hairs and spots (Klingberg). This is a funny discussion, when we all know they're going to offer Radko Gudas a bag (which isn't necessarily the worst idea, but is for the reasons the Leafs will do it). And the Leafs obviously don't have a ton of cap space.
Trading Marner or Nylander simply for cap space only makes the team worse. The other problem for the Leafs is that their goalie track doesn't match the track of the rest of the team. Ilya Samsonov and Joseph could form a talented, young, and most importantly cheap tandem. But there's a learning curve in the playoffs, and you never know where it might end. The Leafs don't have time to find out, but they also don't really have a choice. They'll also have to crowbar Matt Murray, another band-aid solution, off the roster.
What Leafs Nation always seems to fail to realize, is that their unique collection of forwards always keeps them in the contender conversation. Which is not that easy. And in the NHL, that's about all you can do. Be in the top group, and just hope the bounces go your way as they have for others before. You can't lock in a Final appearance. It's lunacy to break what puts you in that select room. You just have to keep reshuffling what's around that. It sucks, it's not guaranteed to work, but it's the only way. But that won't feed the beast that is the gaping maw that surrounds the team, and the Leafs may break themselves before they have to.
---
Follow Sam on Twitter @Felsgate as he tries to get Marner to be Connor Bedard's first linemate.