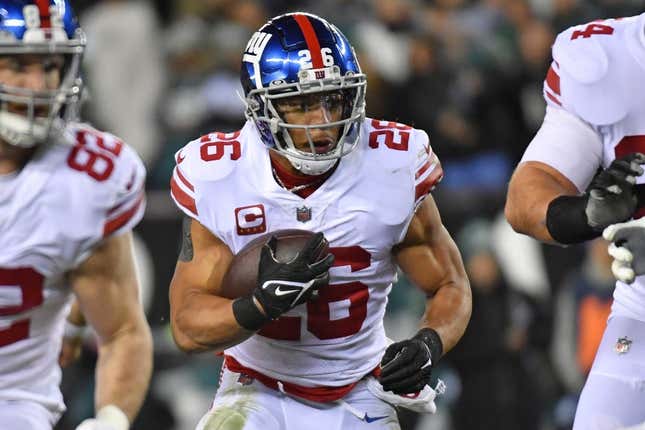 A group of top NFL running backs met via Zoom to discuss the salaries being paid at the position, and Cleveland Browns star Nick Chubb had a sobering message for his fellow running backs.
How running an NFL team is like running a restaurant | Chef Emeril Lagasse
"Right now, there's really nothing we can do," Chubb told ESPN on Sunday.
Chubb confirmed to the outlet that he was among the players to take part in the videoconference on Saturday, which Pro Football Talk reported was the brainchild of Austin Ekeler of the Los Angeles Chargers. Chubb said Christian McCaffrey, Derrick Henry and Saquon Barkley were among the running backs who joined in.
The meeting came on the heels of Barkley (New York Giants), Josh Jacobs (Las Vegas Raiders) and Tony Pollard (Dallas Cowboys) all being unable to reach multi-year contracts ahead of the deadline for franchise-tagged players.
ESPN said the running backs brainstormed ideas but did not come up with any plans to address ways to boost their pay.
"We're kind of handcuffed with the situation. We're the only position that our production hurts us the most," Chubb said, per ESPN. "If we go out there and run 2,000 yards with so many carries, the next year they're going to say, you're probably worn down. It's tough. ... It hurts us at the end of the day."
Barkley and Jacobs both were franchise tagged by their teams but have not signed their franchise tenders, worth $10.09 million for the 2023 season. Pollard signed his tag and is expected to report to training camp. Barkley and Jacobs are not, per ESPN.
The average salary for an NFL running back is $1.76 million, which is about $1 million less than the average for a player on offense, according to Spotrac. The average salary for a left tackle is $8.95 million, by contrast.
McCaffrey is playing on a four-year, $64 million contract extension signed with the Carolina Panthers -- the highest annual average pay at the position.
"This is Criminal," McCaffrey tweeted about the contract situations facing Barkley, Jacobs and Pollard. "Three of the best PLAYERS in the entire league, regardless of position."
Chubb agreed.
"We're definitely in a tough situation, running backs as a whole," he said. "Saquon's a great player and you can ask anyone around the league or even on the Giants how much he means to that team. So it's hard seeing him not get what he deserves."
--Field Level Media