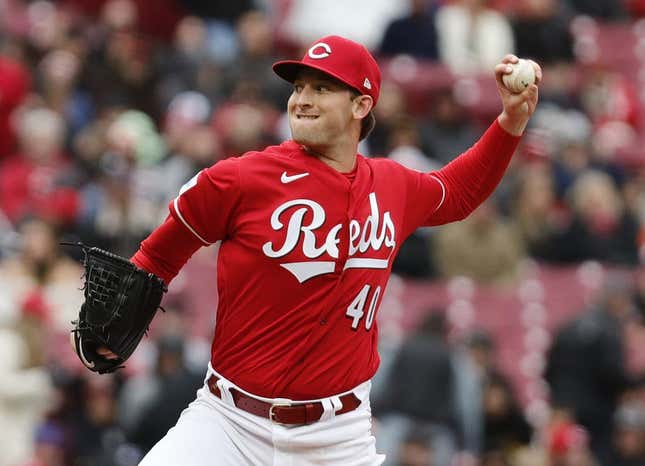 Roger Clemens' son figures to be getting a lot more playing time for the Philadelphia Phillies as injuries have turned first base into a revolving door
Chris Paul should ride the bench next season | Keep it a Buck(et)
The Phillies host the Cincinnati Reds on Saturday in the middle game of a weekend series after Kody Clemens was recalled from Triple-A Lehigh Valley before Friday's series opener
Clemens, acquired in a January trade with the Detroit Tigers, made his Philadelphia debut at first base after Darick Hall was placed on the injured list and went 0-for-2 with a walk and a strikeout.
Phillies manager Rob Thomson said Hall will have surgery to repair a torn UCL in his right thumb and that Clemens will start at first primarily against right-handed pitchers
Third baseman Alec Bohm will shift over and play first against left-handed starters, such as Cincinnati's Nick Lodolo (1-0, 3.60 ERA), who starts Saturday's game.
Hall was filling in for Rhys Hoskins before Hoskins suffered a season-ending torn ACL in spring training.
"The tentative date is Wednesday for surgery. Seems like it's a simple procedure, they're just going to patch it and put an anchor in it," Hall said Friday.
Hall sprained his thumb Wednesday sliding into second base attempting to stretch a single into a double in the 4-2 loss at Yankee Stadium.
"It's sad, but we do play sports and things like that happen," Hall said. "I just hope, and I know that we have a lot of good players and guys that are right behind you that will pick it up and keep the team moving forward."
Clemens batted .319 with five home runs and three doubles in 19 spring training games.
Lodolo will be making his second start of the season after earning the win in last Saturday's 6-2 win over the Pirates. The lefty scattered seven hits and two runs over five innings, striking out nine and walking two.
Lodolo recorded two no-decisions in 2022 against Philadelphia, allowing eight hits and four runs over 12 1/3 innings. Lodolo started the only game Cincinnati won vs. Philadelphia last year, a 1-0 victory Aug. 17.
The Phillies counter with lefty Bailey Falter (0-1, 3.38), who took the loss in Sunday's 2-1 defeat to the Texas Rangers. Falter allowed seven hits and two runs over 5 1/3 innings in his 2023 debut
Falter will make his first career start against Cincinnati after two relief appearances in 2021, allowing two hits and one run, striking out eight and walking two in 5 2/3 innings.
Reds manager David Bell is expected to rejoin the team before Saturday's game. Bell stayed in Cincinnati on Friday to have what the team termed a "minor medical" procedure
Veteran bench coach Freddie Benavides served as the Reds' acting manager in Bell's absence in Cincinnati's 5-2 loss to the Phillies on Friday. Benavides is 5-4 in interim duty, with the previous eight times coming over the course of three separate suspensions between 2019 and 2020
"It's unfortunate that David had to go home but you have to be ready no matter the situation, whether it's (the manager) gets kicked out of the game in the middle of the game, you have to take it on, so you have to prepare and manage it," Benavides said.
"I love this part of the game. It's fun when you know you get to make some decisions. There's a little bit more pressure but it's fun."
--Field Level Media