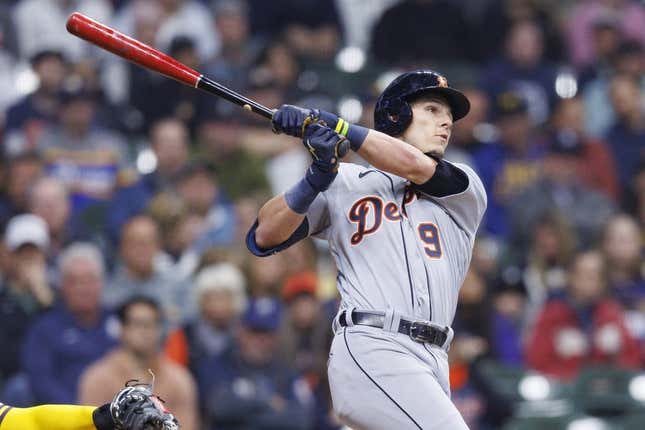 Nick Maton doesn't have many hits in his first month with the Detroit Tigers, but he is making them count
Maton hit a three-run homer in the third inning on Monday as the Tigers snapped a four-game losing streak by defeating the host Milwaukee Brewers 4-2. The teams will play the second game of the three-game series on Tuesday
Maton, who was acquired in a January trade with the Philadelphia Phillies, leads Detroit with four homers. His previous homer, also a three-run shot, gave the Tigers a 7-5 walk-off, 11-inning victory over the San Francisco Giants on April 14
After that long ball, Maton had just one hit in 26 at-bats, yet manager A.J. Hinch put him in the cleanup spot for the series opener at Milwaukee. Maton had a bunt single in his first at-bat before homering off Colin Rea.
"I'm going to do the same thing if I'm one, four or nine (in the order)," Maton said in a postgame TV interview. "Just shows (Hinch) has got confidence in me and I've got all kinds of confidence in myself."
Maton raised his batting average to .154 with the 2-for-3 night.
"It's amazing what one hit can do to just decompress and relax you," Hinch said. "He can exhale a little bit knowing he did a great job."
The bright spot for the Brewers on Monday was catcher William Contreras, who hit his first homer since being acquired from the Atlanta Braves during the offseason
Milwaukee's starter on Tuesday, left-hander Eric Lauer, is coming off his two best outings of the young season. Lauer (3-1, 4.30 ERA) held the San Diego Padres to one run and five hits in six innings on April 14, then limited the Seattle Mariners to two runs and four hits in 7 2/3 innings on Wednesday.
Lauer isn't a hard thrower by major league standards. His fastball topped out at just over 91 mph his latest start, but he used his cutter effectively.
"Right now, (the cutter) is the pitch that I'm comfortable getting back into counts with," Lauer said. "I feel really good about how I'm locating it. I feel like it plays with my fastball really well. Being able to command it is the biggest part for me.
"I'm probably a little more adapting to what's going on," he added. "We're still pushing to get the velo and everything, but my focus is more on being able to be a complete pitcher. Whatever velocity that's going to be, the goal is to have four to five pitches every day that I can command."
The main issue for Lauer has been the home run ball -- he has served up five in his four starts.
He will be opposed by right-hander Spencer Turnbull (1-3, 7.85 ERA). In his latest outing on Wednesday, Turnbull gave up three runs and three hits while walking three in 5 1/3 innings against the Cleveland Guardians.
Turnbull, who missed last season while recovering from Tommy John surgery, held the Guardians scoreless until Jose Ramirez blasted a three-run homer in the sixth.
"Just a lot of frustration because I'm usually such a perfectionist and I have such high expectations of myself," Turnbull said. "But it's also having to realize my body can only do what it can do. It's getting better. I've seen it improving.
"My slider is better. My velocity is better. My stuff is carrying later in the game. But it's still frustrating because it doesn't come out as easy as it used to."
--Field Level Media