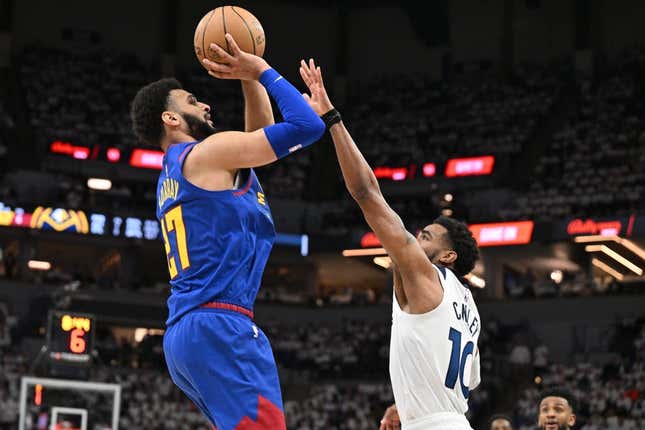 Nikola Jokic amassed 20 points, 12 assists and 11 rebounds while leading the Denver Nuggets to a 120-111 win over the Minnesota Timberwolves in Game 3 of their first-round Western Conference playoff series on Friday in Minneapolis
Aaron Rodgers should go full Joe Namath | Comedian Bert Kreischer
The top-seeded Nuggets grabbed a 3-0 lead in the best-of-seven series and will aim for a sweep on Sunday in Minnesota
Denver, which never trailed in the final three quarters, got 25 points and nine rebounds from Michael Porter Jr. Jamal Murray contributed 18 points and nine rebounds, Aaron Gordon and Kentavious Caldwell-Pope put up 14 points apiece and Bruce Brown scored 12.
The eighth-seeded Timberwolves fell short despite Anthony Edwards' game-high 36 points. Karl-Anthony Towns logged 27 points, and Rudy Gobert totaled 18 points and 10 rebounds. Mike Conley had 12 points
The triple-double was the seventh in postseason play for Jokic. The only center with more career postseason triple-doubles was Wilt Chamberlain, who had nine.
The Timberwolves cut what was a 13-point deficit to three on Edwards' 3-pointer early in the fourth quarter
However, the Nuggets responded with a quick 9-2 run to regain control
Christian Braun was involved in all four baskets for the Nuggets during the stretch, hitting a trio of shots and assisting on Porter's 3-pointer for the other Denver points
Denver shot 57.1 percent from the floor. The Nuggets are shooting 52.1 percent in the series
Porter hit 10 of 17 from the floor with four 3-pointers, while Jokic was 9 of 13.
Edwards sank 13 of 15 from the free-throw line. He was 7 of 11 from inside the arc but just 3 of 11 on 3-point attempts.
Towns, who had struggled in the first two games of the series, bounced back to hit 10 of 17 shots.
With the Nuggets leading by eight midway through the third, Jokic headed to the bench with four fouls
Without Jokic on the floor, though, Denver was able to hold on, taking a six-point lead into the fourth quarter despite 12 points from Edwards and 10 from Gobert in the quarter.
Much of Jokic's offensive production came in the first, when he scored 11.
The Nuggets led by 13 late in the second quarter before a 10-3 Minnesota run to close the half cut Denver's lead to six at the break
Overall, the Nuggets' bench outscored the Timberwolves' reserves 29-10
--Field Level Media