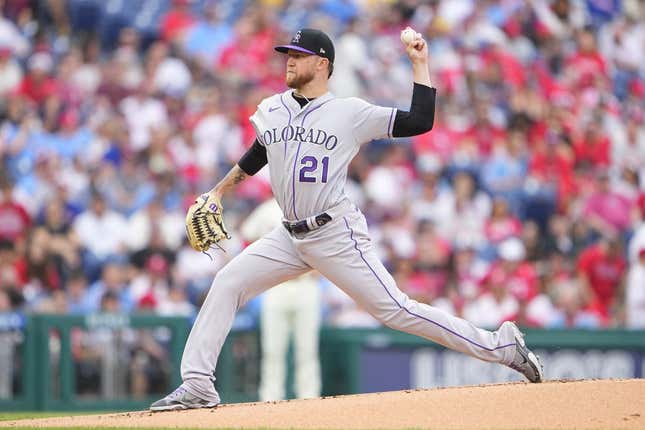 The Colorado Rockies have had a rough start to their season, but they're carrying some momentum heading home
Colorado won its first series of the season, taking two of three in Cleveland this week, and after a day off Thursday the Rockies begin a six-game homestand starting against the surprising Arizona Diamondbacks Friday night in Denver
Arizona will send right-hander Merrill Kelly (1-3, 3.42 ERA) to the mound against Rockies lefty Kyle Freeland (2-2, 4.28) Friday night
Freeland has been the best pitcher in Colorado's rotation, which took a big hit Wednesday. German Marquez, who was counted on to be a one-two punch with Freeland, left the loss at the Guardians after he felt pain in his right triceps.
Marquez had been on the 15-day injured list for tightness in his right forearm, with tests revealing no structural damage. However, this latest twist has the righty a little worried.
"It was a sharp pain, that's why I couldn't keep going," Marquez said.
He was scheduled to have an MRI exam on Thursday.
If Marquez has to miss more time it puts more of a burden on Freeland, who is trying for his first win in four starts. Freeland won his first two outings and didn't give up an earned run for the first 13 innings he pitched before starting to struggle. He has allowed 11 earned runs in the last 8 2/3 innings, and the team has lost his last three starts.
Friday will be his 18th career start against the Diamondbacks. In his previous 17 he is 3-6 with a 5.40 ERA
Arizona begins the weekend in first place in the NL West, while Colorado has the worst record in the National League. The Diamondbacks are coming off winning two of three from Kansas City, capped by a 2-0 win Wednesday
Zac Gallen tossed 6 1/3 scoreless innings and Kelly will try to build upon that. Kelly, who is 3-3 with a 4.55 ERA in nine career starts against the Rockies, has pitched at least five innings in his last four starts but faltered in his last outing when he walked four of the last six batters he faced
Kelly has shown flashes of dominance this year, too. He took a no-hitter into the seventh inning against Milwaukee on April 11 but gave up a leadoff homer and walked two batters before leaving the game.
The walks are troubling for Arizona manager Torey Lovullo, especially at Coors Field, where walks can turn small rallies into crooked innings for pitchers.
"It is a concern of mine," Lovullo said after Kelly's last start. "Our pitchers have to put the ball on the plate, plain and simple. We've got to challenge guys, get ahead and when we're ahead make pitches and not let counts linger. We've got pitchers with really good stuff. We've got to find a way to be consistent with that stuff and put it on the plate."
Kelly has experience facing Colorado in Denver. Four of his starts have been at Coors Field, where he is 2-2 with a 6.20 ERA.
--Field Level Media