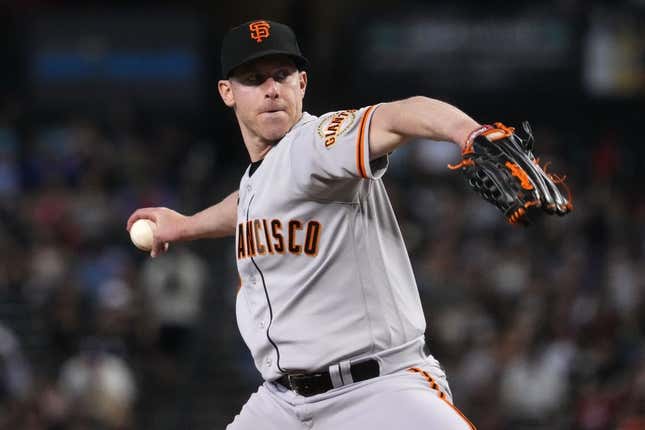 One team whose winning streak has put them over .500 and another team that hope its surge can produce the same result get together Friday night when the visiting Miami Marlins and San Francisco Giants open a three-game series
Chris Paul should ride the bench next season | Keep it a Buck(et)
The series matches the clubs with the two longest active winning streaks in the National League. The Marlins extended their run to four straight with a 5-3 home win over the Washington Nationals on Thursday, and the Giants maintained their three-game run while getting the day off
Miami ace Sandy Alcantara (1-4, 4.91 ERA) and San Francisco's Anthony DeSclafani (3-3, 3.06) are scheduled for a duel of right-handers in the series opener.
The Marlins took two of three from the Giants in Miami last month, winning 4-3 and 4-2 before falling 5-2 in 11 innings
Alcantara did not pitch in the series, preventing him from attempting to improve upon a 1-2 career record and a 2.43 ERA against the Giants in seven meetings, including six starts
The 27-year-old's only win against the Giants was one of his two starts against them last season. After limiting San Francisco to three runs (two earned) in five innings during a no-decision in the 2022 season opener, Alcantara threw seven shutout innings in a 3-0 win on June 2
The reigning NL Cy Young Award winner has yet to win on the road this season, going 0-1 with a 6.50 ERA. Alcantara is coming off one of his worst outings of the year, a 6-5 home loss to the Cincinnati Reds on Saturday, when he was rocked for six runs in 7 2/3 innings.
The Marlins embark on a 10-game trip after not having lost since Alcantara's outing against the Reds, using outstanding pitching as the foundation for four wins in which they allowed a total of 11 runs. A win on Friday would put Miami three games over .500 for the first time since April 30
The Giants, meanwhile, had their offense in high gear during a three-game home sweep over the Philadelphia Phillies to start the week, totaling 17 runs in the victories
They enter this series 20-23, a sweep away from returning to the .500 mark for the first time since they were 3-3.
San Francisco's series-ending 7-4 win over Philadelphia on Wednesday was a rarity in that the Giants came out on top despite not recording an extra-base hit. They made the most of 11 singles, something that did not surprise manager Gabe Kapler
"I feel pretty confident we can win games a lot of ways," Kapler said. "We're swinging the bats well over the last couple of days and getting some good, timely hitting. I'm happy to see our guys come through in big spots."
Giants hitters have done DeSclafani no favors in his last three starts, during which he received a total of five runs of offensive support. He lost the past two of those three contest to the Washington Nationals and the Arizona Diamondbacks
The 33-year-old, who made his major league debut as a Marlin in 2014, has pitched well against his former team in six career starts, going 2-2 with a 2.97 ERA. Like Alcantara, he did not pitch in the earlier series at Miami.
The Giants won't see young Marlins star Jazz Chisholm Jr. this time around after he injured his right big toe -- later diagnosed as turf toe -- while crashing into the center field fence on Saturday
"I'm trying to be back in Chicago," Chisholm, who is on the injured list, said Thursday of a series against the White Sox that begins on June 9. "When we fly to Chicago, I want to be playing. I don't want to miss that road trip, too."
--Field Level Media