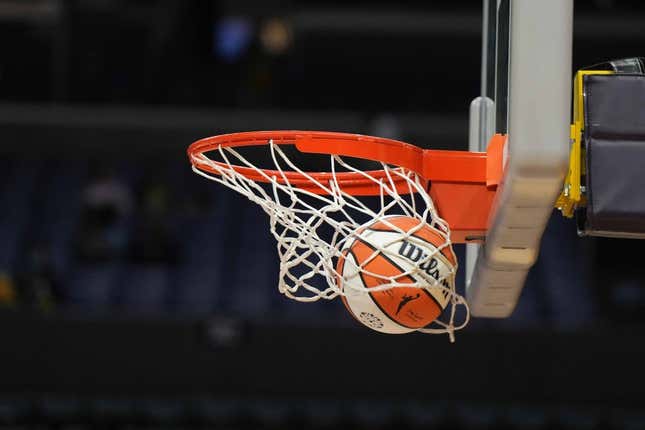 Nneka Ogwumike scored 29 points and took 12 rebounds as the visiting Los Angeles Sparks roared from behind to beat the Atlanta Dream 83-78 on Friday in key late-season game in College Park, Ga.
How running an NFL team is like running a restaurant | Chef Emeril Lagasse
The Sparks (15-18) trailed by 16 points in the waning seconds of the second period but rallied to tie the game late in the third. Los Angeles assumed its third lead of the final quarter on a 3-pointer by Dearica Hamby with 6:32 to play and held on in the final minutes to win their sixth straight contest, which is L.A.'s longest win streak since 2000.
Azura Stevens added 18 points and eight rebounds for Los Angeles, with Jordin Canada scoring 15 with nine assists and Layshia Clarendon hitting for 14 points. The Sparks got all but seven of their points from four of their five starters.
Cheyenne Parker led Atlanta with 22 points and eight rebounds. Monique Billings contributed 10 points and 10 rebounds, Rhyne Howard had 15 points and Danielle Robinson tallied 12 for the Dream (16-18), who have dropped five of their past six games.
The Dream led for the majority of the opening period before a three-point play by Ogwumike at the 2:51 mark tied the game at 16. Atlanta reassumed control and was up 20-17 after 10 minutes of play.
Robinson's layup with 3:47 remaining in the second quarter capped a 10-2 run and pushed Atlanta's advantage to 37-27. The Dream kept rolling, expanding their lead to 52-39 at the break by outshooting Los Angeles 63.6 percent to 41.2 percent and hitting all five of their 3-point attempts in a dominating first half.
Parker led Atlanta with 14 points before halftime, with Howard adding 11 for the Dream. Stevens scored the Los Angeles' final five points of the first half and had 16 by intermission. Canada had 11 points and Ogwumike added 10 for the Sparks.
The Sparks' defense clamped down on Atlanta in the final seven minutes of the third quarter, allowing Atlanta just two points over a four-minute stretch to claw within 60-57 on Karlie Samuelson's jumper with 3:12 to play in the period. Another three-point play by Ogwumike knotted the game at 62 before the Dream carried a 64-62 advantage into the fourth quarter.
—Field Level Media