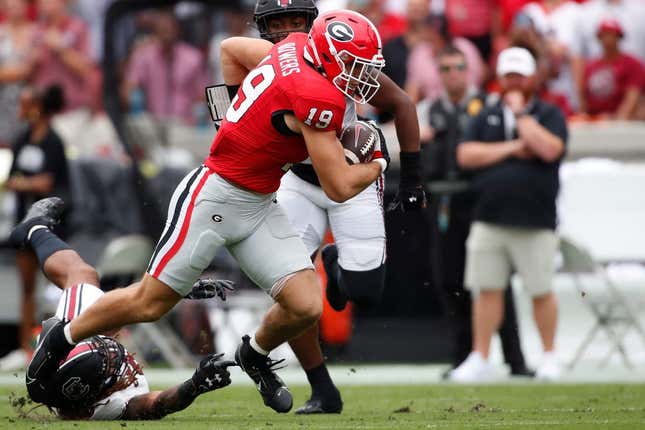 Daijun Edwards ran for 118 yards and a touchdown, and the defense pitched a second-half shutout as No. 1 Georgia kept alive a pair of impressive streaks Saturday afternoon with a 24-14 win over South Carolina in Athens, Georgia.
How running an NFL team is like running a restaurant | Chef Emeril Lagasse
Dillon Bell scored a go-ahead 3-yard rushing touchdown a little over seven minutes into the third quarter, capping a Georgia (3-0, 1-0 SEC) rally from a 14-3 halftime deficit. The win preserved Georgia's 21-game home winning streak and 20-game streak overall, both the longest marks in the nation.
Cash Jones rambled for a 13-yard touchdown run with 9:10 to play to give the Bulldogs their final winning margin.
South Carolina (1-2, 0-1) quarterback Spencer Rattler led two touchdown drives in the first half, finishing 22 of 42 for 256 yards with a touchdown and two interceptions.
The Georgia offense and quarterback Carson Beck struggled to make big plays in the first half, missing wide receiver Ladd McConkey.
The Bulldogs found the big play on their first drive of the second half, as Beck hit Rara Thomas for a 36-yard completion to set up a 7-yard Edwards scoring run, cutting the deficit to 14-10.
Beck finished with 269 yards on 27-of-35 passing.
The Gamecocks' Antwane Wells Jr. wove his way into the end zone through the Georgia defense from 17 yards out after a short completion from Rattler, capping a 10-play, 65-yard drive to open the scoring 5:04 into the game.
Peyton Woodring knocked in a 31-yard field goal with 2:02 left in the first to cap a 15-play, 62-yard Georgia drive.
But Woodring, who also missed from 43 yards out early in the fourth, hooked a 28-yard attempt with 3:27 to play in the half, leaving the score at 7-3.
Rattler went to work right away. He sandwiched a pair of scrambles around a 35-yard completion to Xavier Legette, then Dakereon Joyner powered in a 2-yard touchdown run out of the Wildcat formation to give South Carolina a 14-3 lead at the break.
Rattler was 16 of 18 for 152 yards in the first half.
—Field Level Media