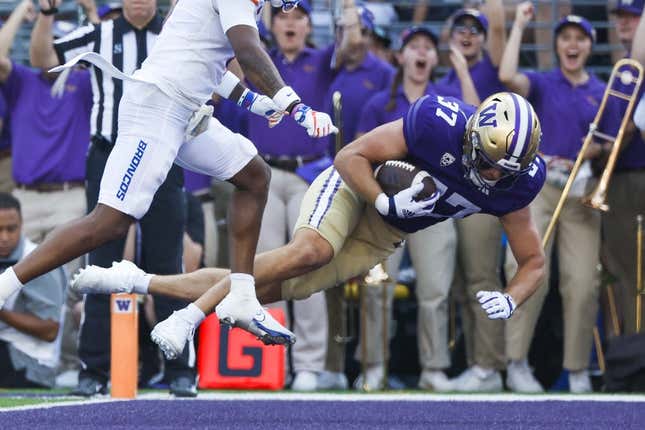 Michael Penix Jr. launched his Heisman campaign by throwing for 450 yards and five touchdowns as No. 10 Washington defeated visiting Boise State 56-19 Saturday afternoon in Seattle in the season opener for both schools.
How running an NFL team is like running a restaurant | Chef Emeril Lagasse
Jalen McMillan caught two TD passes and scored on a 19-yard run out of the wildcat formation on the first play of the fourth quarter as the Huskies amassed 568 yards of total offense.
Boise State's Taylen Green was 19-of-39 passing for 244 yards, with one touchdown and two interceptions. The Broncos' George Holani, who has twice rushed for 1,000 yards in a season, totaled 51 yards on 10 carries. Ashton Jeanty rushed 10 times for 44 yards and a touchdown and caught four passes for 109 yards and a score.
Boise State had one of the top 15 defenses statistically in the country last season but couldn't contain Penix, who completed 29 of 40 passes.
The Huskies took a 28-12 lead at the half as Penix threw touchdown passes of 7 and 38 yards to McMillan, 44 yards to Ja'Lynn Polk and 20 yards to Jack Westover.
The Broncos opened the scoring as Jeanty tallied on a 7-yard run. The extra point failed.
Penix hit McMillan on a 7-yard slant as the Huskies took a 7-6 lead.
The Broncos responded with Jonah Dalmas' 39-yard field goal before the Huskies scored 21 unanswered points, with two touchdowns coming on deep balls down the middle and the other on a delayed screen pass to tight end Westover.
Dalmas kicked a 34-yard field goal with two seconds left before the intermission.
The Broncos scored on the opening possession of the second half as Jeanty took a screen pass and tight-roped his way 50 yards down the left sideline to pull within 28-19.
Washington went 81 yards in four plays to restore its 16-point edge, with Penix lobbing a 5-yard TD pass to Rome Odunze. The touchdown came one play after a 50-yard reception by Polk.
McMillian's rushing touchdown, a 1-yard plunge by Mississippi State transfer running back Dillon Johnson, and a 31-yard scoring strike by backup quarterback Dylan Morris capped the scoring.
—Field Level Media