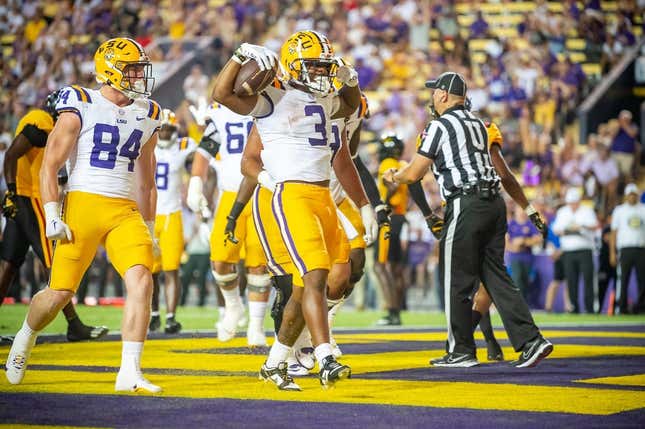 Jayden Daniels threw five touchdown passes in the first half and No. 14 LSU bounced back from a season-opening loss to rout Grambling State 72-10 on Saturday night in Baton Rouge, La.
How running an NFL team is like running a restaurant | Chef Emeril Lagasse
Daniels completed 18 of 24 passes for 269 yards to lead LSU (1-1) to a 42-10 halftime lead against FCS Grambling (0-2). LSU lost 45-24 to Florida State last Sunday.
Brian Thomas Jr. caught two of Daniels' touchdown passes and Chris Hilton Jr., Malik Nabers and Kyren Lacy each caught one. Logan Diggs rushed for 115 yards and a touchdown.
Myles Crawley completed 14 of 25 passes for 148 yards with one touchdown and one interception, and Chance Williams rushed for 106 yards on seven carries for the visitors.
Garrett Nussmeier replaced Daniels to start the second half and capped LSU's first drive with a 1-yard touchdown run that produced a 49-10 lead.
Kaleb Jackson ran 5 yards for a third-quarter touchdown, and fourth-quarter scores came on a 3-yard run by Jackson and a 1-yarder by Noah Cain. LSU had 10 touchdowns on its first 10 possessions and added a late safety when a snap on a Grambling punt went out of the back of the end zone.
LSU received the opening kickoff and drove to Daniels' 26-yard touchdown pass to Thomas.
On the ensuing possession, Grambling State drew even thanks to a 13-yard touchdown pass from Crawley to JR Waters.
Daniels threw a 47-yard scoring strike to Hilton before Grambling's Tanner Rinker kicked a 23-yard field goal to trim the LSU lead to 14-10 at the end of the first quarter.
On the second play of the second quarter, Daniels threw a 7-yard touchdown pass to Nabers for a 21-10 lead.
LSU kept its string of touchdown drives alive when Diggs ran 3 yards for the first rushing touchdown of the game, producing a 28-10 advantage.
Grambling State's next possession produced the game's first punt, and LSU drove to Daniels' 10-yard touchdown pass to Thomas that put the hosts up 35-10.
Daniels threw a 3-yard touchdown pass to Lacy with one second left in the first half to send LSU into the break with the 32-point lead.
—Field Level Media