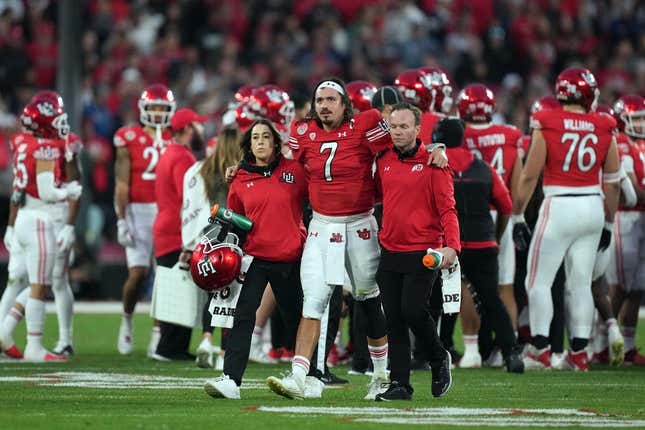 Florida brings a new-to-them, experienced quarterback to Salt Lake City on Thursday night where seething No. 14 Utah stands ready to exact a measure of revenge for the Gators' 32-29 upset of the Utes in the 2022 opener.
How running an NFL team is like running a restaurant | Chef Emeril Lagasse
Only eight starters are back from the 2022 Florida team that beat ranked Utah last September, but an influx of transfers means UF is hardly inexperienced.
The Gators introduce Graham Mertz, a transfer from Wisconsin, as the QB1 on Thursday night alongside a powerful companion that might be the more important crutch at Rice-Eccles Stadium.
That would be the Gators' running game, which overpowered Utah in last year's tussle. Florida gained a program-record 531 rushing yards and then-quarterback Anthony Richardson scored three TDs. Richardson was the No. 4 pick in the 2023 NFL Draft, which is where Mertz fits into the plot line.
But the Gators welcome back the running back tandem of Montrell Johnson Jr. and Trevor Etienne, who combined for 16 TDs last season, to offer proven production and continuity.
Utah's focus during the monthslong buildup to their primetime opener was tackling. Head coach Kyle Whittingham said missed tackles largely led to the long night in The Swamp last year.
"Safe to say, that's been a primary focus," Whittingham said, immediately recalling the number of charted missed tackles in the loss — 29. "I expect us to be much-improved there."
Florida envisions a far superior passing game due to Mertz's consistency. He established a quick connection with senior wide receiver Ricky Pearsall, a big-play threat who was fourth in the FBS with an average of 20 yards per reception last season.
A three-year starter at Wisconsin, Napier said Mertz won the QB competition in the offseason by forcing "other players to rise to the occasion." Part of the draw of a proven player at the position was the team's performance in close games and poise when the Gators are on the road.
Preparation and consistency in practice has the Gators believing in Mertz.
"I think you can play the game when you're well prepared," Napier said of the relaxed play of his QB. "If you're doing what you're suppose to do as a player each day then you can go into the game and play with confidence."
Back-to-back Pac-12 championships are part of the Utah resume, and the Utes are a different beast playing at home. Utah was undefeated at Rice-Eccles Stadium last season for the fifth time under Whittingham and the Utes are 25-1 in the past 26 games with 14 consecutive wins.
Whittingham didn't disclose Monday what direction the Utes will go at quarterback with Cam Rising recovering from a season-ending knee injury and Bryson Barnes losing his lead for the No. 2 role as Nate Johnson pulled even in fall camp. Rising is "progressing," Whittinham said, but he wouldn't commit to any direction for Thursday.
Rising returned to Utah and "attacked" recovery from a torn ACL on Jan. 1 in the team's Rose Bowl loss to Penn State, Whittingham said, noting he'll officially be listed as questionable while limited in practice participation. Whittingham also wouldn't clarify the status of standout tight end Brant Kuithe, who went down with the same injury last September against Arizona State. He has 148 career catches with 16 TD receptions and four rushing TDs.
Rising passed for 3,034 yards and 26 touchdowns in 2022 and ran for 465 yards and six touchdowns.
While the Gators are 30-1 in season openers since 1990, Florida lost its last season-opening road game against a ranked opponent at Miami (31-4) in 1987.
—Field Level Media