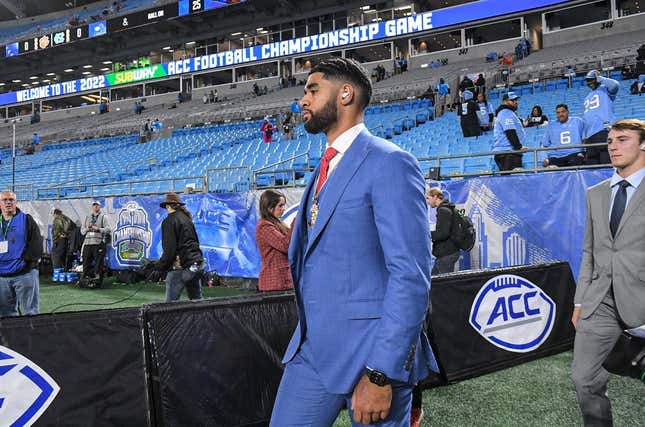 Oregon State quarterback DJ Uiagalelei will look for a repeat performance when he makes his home debut against UC Davis on Saturday night in Corvallis, Ore.
How running an NFL team is like running a restaurant | Chef Emeril Lagasse
Uiagalelei accounted for five touchdowns in his team debut on Sunday, leading the Beavers to a 42-17 victory at San Jose State.
Uiagalelei is in his first season with No. 16 Oregon State after transferring from Clemson.
He spent most of his freshman season in 2020 backing up Trevor Lawrence before starting 26 consecutive games for the Tigers in 2021-22.
Uiagalelei struggled in a 31-30 loss to South Carolina in an ACC matchup last December and then was removed the following week against North Carolina. He never got on the field in a loss to Tennessee in the Orange Bowl.
Clemson doesn't seem to have improved with the departure of Uiagalelei. The Tigers were upset 28-7 by Duke in Durham, N.C., in their season opener on Monday night, dropping them from No. 9 to No. 25 in the AP poll.
Uiagalelei was sharp against San Jose State, completing 20 of 25 passes for 239 yards and three touchdowns. The 6-foot-4, 252-pounder also had a pair of 1-yard touchdown runs.
"I thought he saw it well, played with composure," Oregon State coach Jonathan Smith said. "He distributed the ball, got us in the right run plays, got a couple protection checks that were critical on some throws. Without watching the tape, I thought he was really efficient."
Uiagalelei completed passes to nine receivers, but Anthony Gould and Silas Bolden were his main targets.
Bolden was targeted seven times and made six catches for 53 yards, and Gould caught three passes for 59 yards and a touchdown.
The Beavers also were difficult to stop on the ground. They rushed for 197 yards, averaging 5.6 yards per carry.
Damien Martinez led the way in the run game, totaling 145 rushing yards on 18 carries. Deshaun Fenwick contributed 33 yards and a touchdown on eight carries.
Oregon State also played turnover-free; San Jose State blocked a punt.
UC Davis is coming off a 48-10 road win against Texas A&M-Commerce in its season opener on Aug. 31.
The Aggies scored the first 31 points before finishing with their largest margin of victory in a season opener since a 41-3 home win over Azusa Pacific in 2012.
UC Davis amassed 279 rushing yards, led by 109 from Lan Larison, and the Aggies scored five touchdowns on the ground.
The Aggies also converted 6-of-11 third-down situations and played a penalty-free game.
UC Davis is quarterbacked by Miles Hastings, who led the Big Sky Conference with 3,048 passing yards and a 69.8 completion percentage last season, throwing for more than 300 yards three times.
Two years ago, the Aggies upset Tulsa 19-17 in their season opener in Oklahoma. Tulsa had played in the American Athletic Conference title game the year before.
UC Davis is guided by Dan Hawkins, who became his alma mater's head coach in 2017. He formerly was the head coach at Boise State (2001-05) and Colorado (2006-10).
Hawkins is optimistic about the Aggies this season.
"Every year brings a new mystery and intrigue and promise and hope. ... We have a lot of talent, a lot of depth, a lot of experience," Hawkins said before his team's game against Texas A&M-Commerce.
—Field Level Media