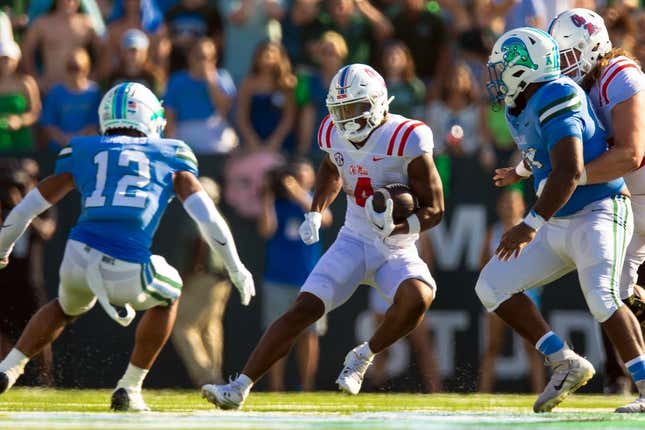 Ole Miss coach Lane Kiffin is dissatisfied with his team's running game.
The No. 17 Rebels are 2-0 but rushed for a total of just 232 yards in beating Mercer at home and then-No. 24 Tulane on the road.
How running an NFL team is like running a restaurant | Chef Emeril Lagasse
Kiffin said he's "highly concerned" about getting the running game going in Ole Miss' game against nonconference foe Georgia Tech on Saturday night in Oxford, Miss.
"It's very unusual for us," Kiffin said. "It takes everybody to have a really good running game. We definitely look to improve there. That's a major issue and one that I don't think anybody would've guessed."
The Rebels didn't lean on the running game a whole lot while they were passing for 524 yards in the opener, but they tried to be more balanced against Tulane, and the Green Wave held them to 89 yards on 35 rushes.
"(Tulane) did a great job," Kiffin said. "They played really hard, extremely hard, and we did not adjust very well and match their intensity, in my opinion, up front."
Kiffin said it's only natural for opponents to be more focused on Ole Miss' running game after Quinshon Judkins rushed for 1,567 yards and 16 touchdowns - both school records — as a freshman a year ago.
The mostly ineffective running game contributed to the Rebels converting just 1 of 13 third downs against Tulane, though they were 3-for-3 on fourth down.
Kiffin said it's possible "our players took them for granted" when they discovered during pregame warmups that Green Wave quarterback Michael Pratt wouldn't play because of a knee injury.
But Ole Miss finished the game on a 30-3 run.
If the players did take Tulane lightly, Kiffin hopes they learned a lesson as they prepare to play a Yellow Jackets team that they beat 42-0 on the road last season.
Tech (1-1) bounced back from a 39-34 home loss to Louisville in the season opener to rout visiting FCS opponent South Carolina State 48-13 last Saturday.
Yellow Jackets first-year head coach Brent Key worked alongside Kiffin on the Alabama staff in 2016 and Kiffin said this week that he once tried to hire Key.
"You can look at (the stats) and say they're not running the ball," Key said of the Rebels. "Yeah, right. Here's what I know about Lane Kiffin: he's going to run the football. You can rest assured he's going to do everything he can to get that guy (Judkins) going this week. We've got to be balanced in what we do on defense."
As for the Jackets' offense, Haynes King threw for 290 yards and four touchdowns and Jamal Haynes rushed for 113 yards last Saturday.
Key praised King, who played three seasons at Texas A&M before arriving at Tech as a graduate transfer this season, for his "command of the offense and command of the field."
He said King and his teammates will be prepared for a road challenge in SEC country.
"(It's not just) knowing just what he has to do, (but) knowing the other talent on the offense and the 11 on defense," Key said. "He has big-game experience, big-game road experience. He's not going to be rattled by any means. We've got a lot of experience on the offensive side. They understand how to operate in that environment."
—Field Level Media