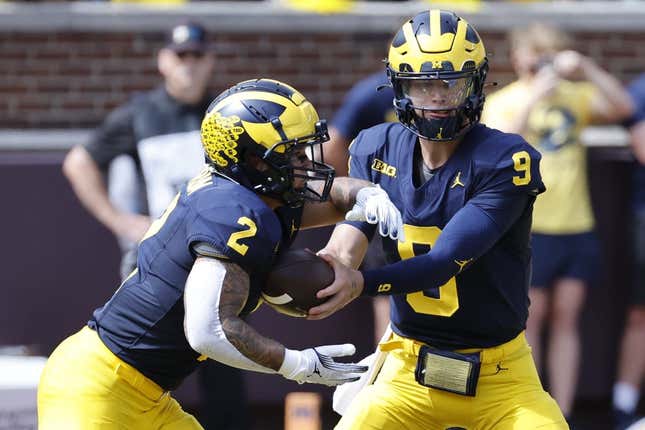 Second-ranked Michigan went with one acting head coach during its season-opening victory over East Carolina.
How running an NFL team is like running a restaurant | Chef Emeril Lagasse
This time, running backs coach Mike Hart and special-teams coach Jay Harbaugh will share the duties when the Wolverines (1-0) face UNLV on Saturday afternoon at Ann Arbor, Mich.
Coach Jim Harbaugh is serving the second contest of a three-game suspension for NCAA recruiting violations. The first contest went just fine with defensive coordinator Jesse Minter running the team during a 30-3 victory over the visiting Pirates last week.
Jay Harbaugh, the 34-year-old son of the coach, will handle the first-half coaching duties. Hart, 37, a former Michigan star running back, will run the team in the second half.
"For coach Harbaugh to trust me to be head coach for a half is a great honor," Hart said Monday.
Jay Harbaugh also has embraced the shared role.
"Mike and I have great conversations," Jay Harbaugh said. "We've already had some thus far, just about a vision for how things look at this point, aggressiveness, situations, that kind of thing."
The Wolverines will have offensive coordinator Sherrone Moore back in the fold. He also was serving a suspension in the East Carolina game for NCAA recruiting violations.
The absences of Jim Harbaugh and Moore didn't affect Michigan quarterback J.J. McCarthy, who completed 26 of 30 passes for 280 yards and three touchdowns. McCarthy's 86.7 completion percentage is the second highest in Wolverines history behind the 90.9 turned in by Elvis Grbac (20 of 22) against Notre Dame on Sept. 14, 1991.
Star running back Blake Corum had 73 yards on 10 carries and scored a touchdown in his first game since undergoing major knee surgery nine months ago. Corum rushed for 1,463 yards and 18 TDs last season.
"We're a complete team," Corum said after the win. "If we need to run the ball, we'll run it. If we need to pass, we'll pass. There's no, 'They can't pass the ball.' We're a complete team — and that's what we do in practice."
UNLV (1-0) won its first game under new coach Barry Odom as it routed visiting Bryant 44-14.
Odom, who coached Missouri from 2016-19, is attempting to pump life into a program that has notched just one winning record over the past 22 seasons.
He's well aware the Wolverines are a major challenge for this team.
"Our motivation is to play our best and to be the best versions of what we can be," Odom said. "And then we want to go play at a high level and take the opportunity we have in front of us and go make the most of it.
"Obviously, we have got a lot of respect for our opponent. It'll be a great atmosphere to play in. I'm happy for our student-athletes to be in that environment."
Junior-college transfer Jacob De Jesus had a 96-yard kickoff return but didn't score as he was stopped at the Bryant 2-yard line. The return was the fourth longest in school history.
Rebels starter Doug Brumfield completed 11 of 18 passes but had just 86 yards and threw an interception.
"I take full ownership on that," Brumfield said. "The offense goes as I go, and as a captain and quarterback, it's my job to push the offense to the level we want to be at. We definitely did some good things out there, but there's for sure some room to improve."
Michigan won the lone previous meeting against UNLV, 28-7 in 2015 during Jim Harbaugh's first season as coach.
—Field Level Media