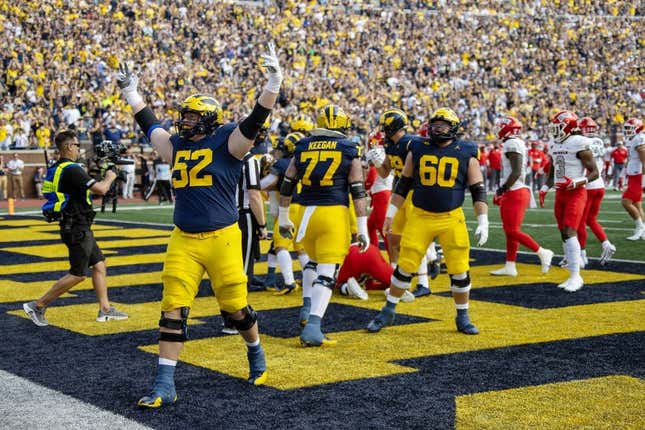 Blake Corum rushed for three touchdowns and J.J. McCarthy tossed two touchdown passes to help No. 2 Michigan rout UNLV 35-7 on Saturday afternoon in a nonconference game at Ann Arbor, Mich.
How running an NFL team is like running a restaurant | Chef Emeril Lagasse
McCarthy threw two touchdown passes to Roman Wilson, who has caught five in two games. McCarthy completed 22 of 25 passes for 278 yards while recording the second-highest completion percentage (88.0) in school history.
It was the second straight game in which McCarthy (86.7 percent versus East Carolina in the opener) threatened the school mark of 90.9 held by Elvis Grbac, who completed 20 of 22 passes against Notre Dame on Sept. 14, 1991.
Corum rushed for 80 yards on 15 carries before exiting. Wilson had 89 yards on four receptions and Cornelius Johnson had 82 yards on five catches for the Wolverines (2-0).
Doug Brumfield completed 10 of 19 passes for 100 yards for the Rebels (1-1). Jordan Younge-Humphrey scored on a 20-yard run for UNLV, which had just 61 rushing yards on 31 attempts.
The Wolverines outgained the Rebels 492 to 229.
Michigan coach Jim Harbaugh served the second of a three-game suspension for NCAA violations.
Special teams coach Jay Harbaugh, son of Jim, was the head coach for the first half. Running backs coach Mike Hart ran the team in the second half.
The Wolverines moved 80 yards on nine plays for their first score with Corum running the ball the final 3 yards with 7:06 left in the first quarter.
Corum tacked on a 2-yard scoring run on the first play of the second period to give Michigan a 14-0 lead. With 24 seconds left, McCarthy threw a 13-yard touchdown pass to Wilson for a 21-point halftime lead.
McCarthy completed 17 of 18 passes for 188 yards in the half with the lone incompletion being a throwaway. The Wolverines had a 280-42 edge in total yardage and recorded five first-half sacks during Jay Harbaugh's half in charge.
McCarthy and Wilson hooked up again early in Hart's time at the helm. The duo teamed up on a 47-yard catch-and-run to make it 28-0 with 10:31 left in the third quarter. Corum tacked on a 5-yard scoring run with 3:16 left to make it a 35-point margin.
Younge-Humphrey's scoring run with 2:43 left in the game prevented UNLV from being shut out.
—Field Level Media