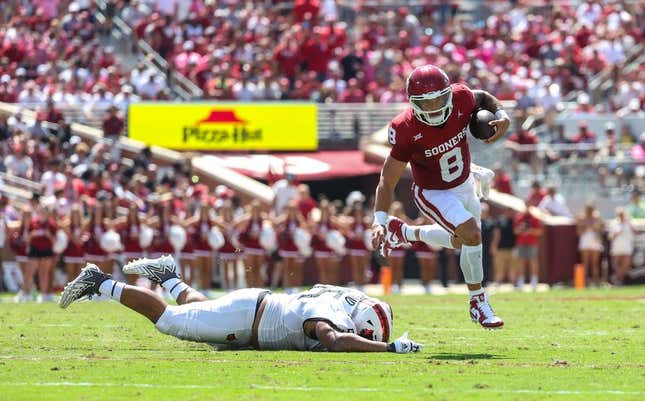 Dillon Gabriel threw for 308 yards and two touchdowns and ran for another score, all in the first half, to lift No. 20 Oklahoma to a 73-0 victory over Arkansas State on Saturday at Norman, Okla.
How running an NFL team is like running a restaurant | Chef Emeril Lagasse
The Sooners' offense was dominant from the start, needing just five plays to drive 70 yards for a touchdown to start the game and finding the end zone on each of their first five drives.
By halftime, Oklahoma led 45-0.
The Sooners (1-0) converted on each of their first seven third-down tries, while holding the Red Wolves (0-1) to just 1 of 7 on third down in the first half.
About the only thing that didn't go right for Oklahoma in the first half was an injury to starting receiver Drake Stoops (shoulder), who had four catches for 56 yards and a touchdown in the first six minutes of the game before departing.
Gabriel kept spreading the ball around, completing passes to nine different receivers in the first half. That included three catches for 66 yards by Andrel Anthony, a Michigan transfer.
After Gabriel hit Stoops for a 10-yard score on the game's first drive, the Sooners' defense quickly held Arkansas State to a three-and-out before Gavin Freeman returned the ensuing punt 82 yards for a touchdown.
It was Oklahoma's first punt return for a touchdown since Dede Westbrook's against Kansas in 2016.
Freeman added a 7-yard touchdown reception late in the first quarter as the Sooners took a 28-0 lead.
Eight different players scored touchdowns for the Sooners, with only walk-on running back Tawee Walker and Freeman scoring multiple times.
Oklahoma outgained Arkansas State 642-208, including 220-48 rushing.
Sooners freshman backup quarterback Jackson Arnold, who took over for Gabriel after halftime, was 11 of 11 for 114 yards and a score. He also ran for another touchdown in his collegiate debut as Oklahoma finished 30 of 33 through the air.
Oklahoma averaged 7.8 yards per play.
Courtney Jackson led the Red Wolves with three catches for 66 yards. No player had more than 11 yards rushing for Arkansas State.
The Red Wolves were just 2 of 12 on third down, while the Sooners were 11 of 14.
—Field Level Media