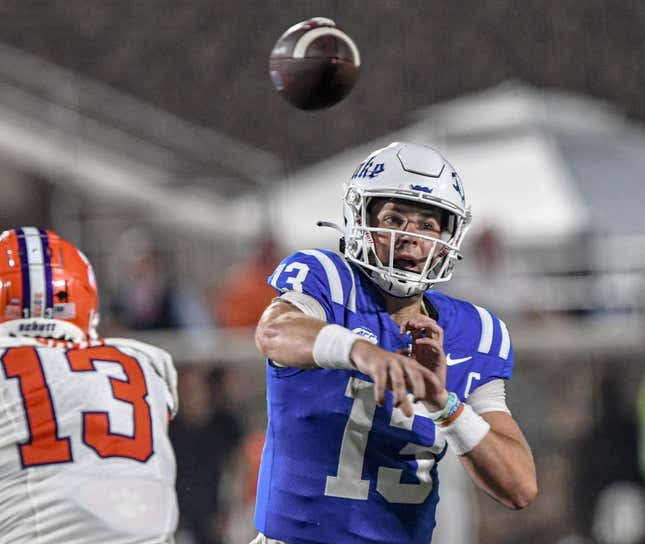 Coming off a 28-7 defeat of then-No. 9 Clemson on Monday night, Duke has a short week to get over it all — the historic upset, the national TV spotlight, the field-storming celebration and its first AP Top 25 ranking since 2018.
How running an NFL team is like running a restaurant | Chef Emeril Lagasse
This could be the recipe for a trap game, especially considering the No. 21 Blue Devils' lack of big-stage pedigree.
Next up for Duke (1-0) is Lafayette (1-0) of the FCS on Saturday in Durham, N.C., in the schools' first-ever meeting.
In toppling the Tigers, Duke ended its 28-game losing skid against teams in the top 10. The last time the Blue Devils had such a win was in 1989 when it stunned No. 7 Clemson.
"That was the biggest fear coming into the game, that (Clemson) plays on this stage eight, nine times a year," Duke coach Mike Elko said. "Our kids have not played on that stage one time in their career."
Duke's success was pinned on the playmaking of quarterback Riley Leonard, a productive rushing attack and an opportunistic defense that forced three Clemson turnovers in the second half — including a pair of fumbles inside the Blue Devils' 10-yard line.
Leonard, who rushed for 98 yards on eight carries, gave Duke the lead for good in the second quarter when he shook loose from a Clemson defender in his own backfield and sprinted 44 yards for a touchdown.
Early in the fourth quarter, Duke's Jaylen Stinson scooped up a fumble and ran 55 yards into Clemson territory. Six plays later, Jaquez Moore (eight carries, 43 yards) scored on a touchdown run for a 21-7 lead.
In the closing minutes, Jordan Waters (11 carries, 63 yards) iced it with a 36-yard scoring run.
It was a script similar to what Duke used in Elko's first season in 2022, when he earned ACC Coach of the Year honors after transforming a program that was winless in the league in 2021.
The Blue Devils went 9-4 last year and ranked No. 2 in the nation in turnover margin (plus-1.23 per game), while Leonard accounted for 20 touchdowns passing and 13 on the ground.
The return of 17 starters has helped the Blue Devils build on their successful formula from last season.
"This is what I envisioned Duke could be when I took this job," Elko told ESPN on Monday night as fans swarmed the field.
Lafayette comes to Durham after opening with a 19-14 victory at Sacred Heart last Saturday.
Jamar Curtis did the heavy lifting for the Leopards. On 21 touches, he accounted for a touchdown and 199 of Lafayette's 292 yards.
In his college debut, Michael Vaughn had two sacks to lead the Leopards defense, which limited Sacred Heart to 254 yards.
Vaughn's emergence is key for a defensive line that has no returning starters. The rest of the unit is loaded with veterans, including Saiku White and Marco Olivas who combined for 21 tackles on Saturday.
"They play fast. We're gonna have to match their intensity," second-year coach John Troxell said of Duke. "It's gonna be a great environment for our kids. It's gonna be a great opportunity for them to show how hard they've worked."
—Field Level Media