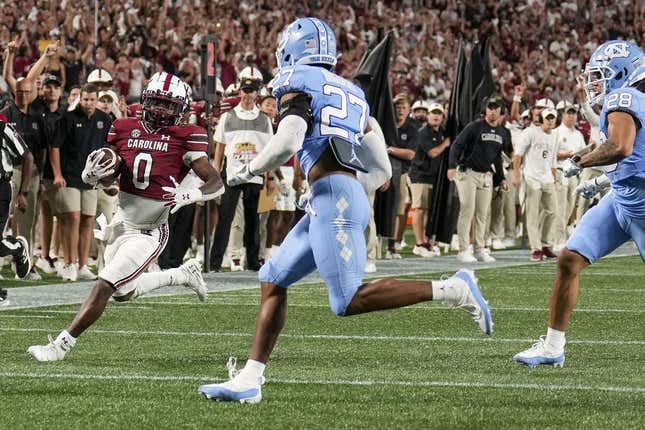 Drake Maye threw two touchdown passes and No. 21 North Carolina's defense stiffened in the second half as the Tar Heels defeated South Carolina 31-17 to open the season Saturday night in Charlotte, N.C.
How running an NFL team is like running a restaurant | Chef Emeril Lagasse
Maye, a preseason Heisman Trophy candidate, completed 24 of 32 passes for 269 yards. He was intercepted twice in this neutral-site matchup.
South Carolina had three fourth-quarter possessions in North Carolina territory and managed only three points from those.
Spencer Rattler was 30 for 39 for 353 yards for the Gamecocks. He was sacked nine times.
Running back British Brooks gained 103 yards on 15 carries for the Tar Heels.
North Carolina took control with two third-quarter touchdowns in a five-minute span, beginning with Omarion Hampton's 1-yard run. Then Maye's hurried throw under pressure was caught by John Copenhaver for an 18-yard touchdown for a 31-14 lead.
O'Donnell Fortune intercepted Maye late in the third quarter, but the Gamecocks settled for Mitch Jeter's 26-yard field goal with 12:19 to play.
Another interception of Maye didn't result in points as South Carolina gave the ball back on downs after reaching the North Carolina 13-yard line.
North Carolina scored on its first possession of the season on Hampton's 1-yard run to complete a nine-play, 70-yard drive.
South Carolina countered to tie the score, with Dakereon Joyner scoring on a 4-yard run as the Gamecocks moved 75 yards in eight plays.
The Tar Heels were up 10-7 after Ryan Coe's 37-yard field goal midway through the second quarter.
South Carolina had its first lead with 5:16 to play in the first half on a five-play, 72-yard drive that ended on Juju McDowell's 1-yard run.
Maye threw a 34-yard touchdown to Kobe Paysour to put the Tar Heels back in front with 2:50 to play in the half.
North Carolina was without receiver Tez Walker, whose appeal to the NCAA for eligibility remains pending. Another transfer receiver, Nate McCollum, expected to be an impact player for the Tar Heels, was out with an injury.
This was South Carolina's fifth season opener in Charlotte since 2011, going 3-2 in those games with both losses to the Tar Heels. The Gamecocks ended the 2021 season in Charlotte with a bowl victory against North Carolina.
—Field Level Media