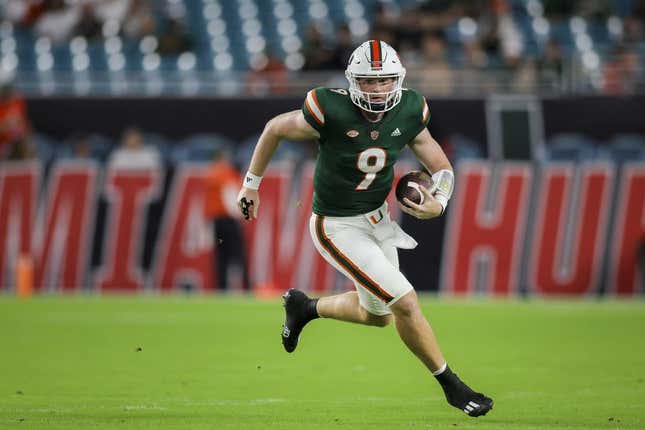 Tyler Van Dyke passed for two touchdowns and ran for another as the 22nd-ranked Miami Hurricanes routed the Bethune-Cookman Wildcats 48-7 on Thursday night in Miami Gardens, Fla.
How running an NFL team is like running a restaurant | Chef Emeril Lagasse
Van Dyke played just one half, completing 19 of 23 passes for 247 yards as Miami (3-0) cruised. The Hurricanes scored touchdowns on their first four possessions and nearly had a fifth if not for a fumble into the end zone by Colbie Young.
Wide receiver Xavier Restrepo had six catches for 120 yards for Miami. The Wildcats (1-2) have never beaten Miami, losing all seven games in the series.
Bethune-Cookman quarterback Luke Sprague, making his first start of the season, lasted just one series before leaving the game due to an injured right shoulder. Sprague went 3-for-3 for 23 yards, but he took a couple of big hits.
Miami played without four defensive starters, all out due to injury: All-American safety Kamren Kinchens; ends Akheem Mesidor and Nyjalik Kelly; and tackle Branson Dean.
Still, the Hurricanes led 14-0 after the first quarter, 34-0 at halftime and 41-0 heading into the fourth.
The Hurricanes were nearly flawless in the first half other than the fumble and one penalty for five yards.
Van Dyke went 5-for-5 for 34 yards passing on Miami's first possession. He capped the drive with a 10-yard touchdown run.
The Hurricanes made it 14-0 on Ajay Allen's 8-yard run, capping an 11-play, 93-yard march. A highlight on the drive was a 20-yard catch by Restrepo on third-and-7.
Miami extended its lead to 20-0 as Van Dyke threw a 20-yard scoring pass to Jacolby George on a bubble screen. Andres Borregales missed the extra point.
The Hurricanes made it 27-0 on a four-play, 55-yard drive. Donald Chaney Jr., who carried on every play, capped the march with a 3-yard rumble up the middle.
On its final possession of the first half, Miami moved 74 yards in just 35 seconds and four plays — all through the air. The touchdown came on a 27-yard post pattern to Brashard Smith with 27 seconds left in the first half to make it 34-0.
The Wildcats spoiled Miami's shutout bid on Walter Simmons III's 6-yard scoring run with 1:19 left in the game. Simmons made a great effort to reach for the right pylon.
—Field Level Media