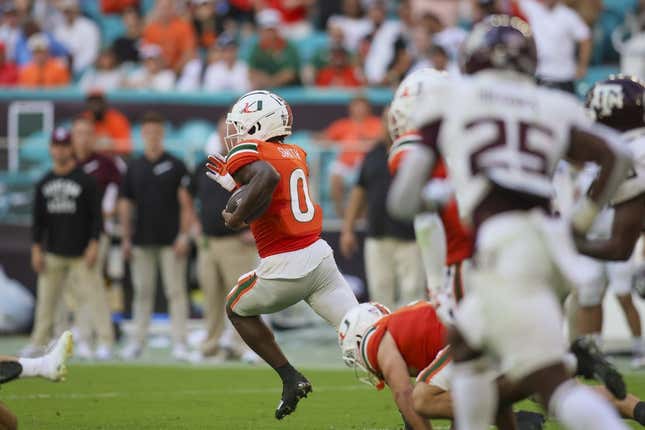 Not yet into the meat of its schedule, No. 22 Miami posted a prove-it victory and can achieve a 3-0 start to the 2023 season in another sign of progress under head coach Mario Cristobal.
How running an NFL team is like running a restaurant | Chef Emeril Lagasse
"We are taking steps in the right direction," Cristobal said as the Hurricanes (2-0) shifted attention to hosting Bethune-Cookman (1-1) on Thursday night. "We are progressing. We are nowhere near arrived."
The Hurricanes are 6-0 in their series against the Wildcats, including a 70-13 victory last year, and ride the momentum of a 48-33 win over Texas A&M, which was ranked 23rd. The Aggies beat Miami 17-9 in College Station in 2022, knocking the Hurricanes from the Top 25 for the rest of the season.
Miami did leave the win with a few wounds. Namely injuries to three defensive starters, All-American safety Kamren Kinchens, end Akheem Mesidor and tackle Branson Dean.
Cristobal said Monday that Kinchens, arguably the Hurricanes' top defensive player, was put through multiple tests and "all the evaluations" after leaving the Hard Rock Stadium field on a stretcher to be airlifted to a trauma center.
"He's in good shape. He's fine. He's going to be well," Cristobal said, declining to pinpoint an exact injury or diagnosis. "He's going to be really good. He doesn't have anything that's too serious. He just has some football stuff. We're going to be in great shape."
Defensive line is one of Miami's deepest positions. Miami's defense, under new coordinator Lance Guidry, is off to a solid start, ranking fifth in the ACC in points allowed (18.0). Against the Aggies, Guidry dialed up four cornerback blitzes, and they all worked.
Offensively, Miami ranks fifth in the league in scoring (43.0). Slot receiver Xavier Restrepo, who was injured most of last season when the Hurricanes went 5-7, leads the ACC in reception yards per game (97.0).
Hurricanes quarterback Tyler Van Dyke, who drops "Van Dymes" according to the jersey his mother wore to the Aggies game, ranks second in the ACC in passing yards (287.5) and first in efficiency.
"Accuracy-wise, I feel like I'm the best I've ever been," Van Dyke said. "Seeing the defense, I'm the best I've ever been."
Miami offensive coordinator Shannon Dawson said the protection Van Dyke received on Saturday - against an opponent as good as the Aggies - was as good as he's ever seen.
"Tyler didn't get touched," Dawson said. "He looked like was in complete control. His vision was on point."
There were mistakes from Miami in the win over A&M, which blocked a punt that led to a touchdown. Miami also had a muffed punt that led to a touchdown and 10 penalties for 115 yards.
Bethune-Cookman earned some confidence Saturday, winning its home opener, 31-6, over Savannah State.
The Wildcats were routed 56-14 at Memphis in their season opener. Bethune-Cookman's biggest highlight in that game — and its only score in the first three quarters — was Amarie Jones' 69-yard interception return.
First-year Wildcats coach Raymond Woodie has been using two quarterbacks, starting Walter Simmons III and plugging in backup Luke Sprague, who is a junior college transfer from Pennsylvania.
Sprague might get the start this week. He took over the offense in the second quarter and led the Wildcats to all 31 of their points against Savannah State.
Sprague completed 23 of 29 passes for 223 yards and two touchdowns, with no interceptions or sacks. Simmons completed just 2-of-6 passes for 39 yards. He was intercepted once and sacked twice.
"Every day you show up, it's going to be a battle," Woodie said of the QB competition.
The Wildcats got a good performance from 5-7, 163-pound wide receiver Dacarri Allen-Johnson (eight targets, six catches, 49 yards and two touchdowns). Running back Jouvensly Bazil, a Washington State transfer, added six carries for 64 yards and two touchdowns.
—Field Level Media