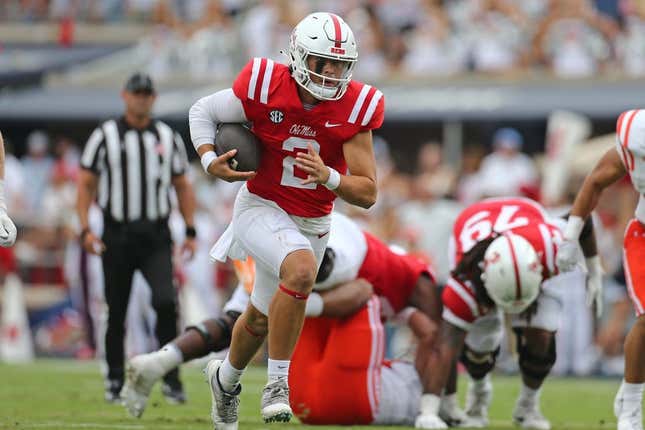 Jaxson Dart threw for 334 yards and four touchdowns, and No. 22 Ole Miss routed FCS visitor Mercer 73-7 in the Rebels' season opener Saturday in Oxford, Miss.
How running an NFL team is like running a restaurant | Chef Emeril Lagasse
Tre Harris, in his first game at Ole Miss, set a single-game program record with four receiving touchdowns. The Louisiana Tech transfer finished with six catches and 133 yards.
Dart, confirmed as the Rebels' starting quarterback before kickoff, completed his first 11 throws and finished 18-of-23 passing before giving way to Spencer Sanders. The Oklahoma State transfer went for 134 passing yards and two touchdowns in relief in his Ole Miss debut.
Ole Miss (1-0) racked up 667 yards of total offense and scored on all but two possessions. Preseason All-American running back Quinshon Judkins chipped in 13 carries for 60 yards and two touchdowns.
Mercer quarterback Carter Peevy completed 16 of 29 passes for 138 yards and an interception. On Mercer's first play on offense, Peevy kept a quarterback option and dashed up the middle untouched for a 75-yard touchdown to tie the game at 7, but the Bears (1-1) would not score again.
Harris scored his first three touchdowns in the first 3:15 of game time, coming from 38, 28 and 20 yards out. He spun away from three would-be tacklers and dove to the goal line on the third score to make it 21-7 Ole Miss.
Judkins plunged in from 1 yard and 3 yards out before halftime to put the Rebels up 38-7.
Mercer received the ball first in the second half but its drive ended in a punt. Jordan Watkins returned it 70 yards straight up the middle for a touchdown. Watkins also caught six passes for 111 yards Saturday.
Dart hooked up with Harris over the middle for his fourth touchdown with 9:45 left in the third quarter. Sanders took over on the next drive and hit running back Ulysses Bentley IV for a 6-yard pitch-and-catch score.
It was 66-7 before the end of the third quarter after freshman Cayden Lee caught a 34-yard touchdown. Matt Jones (1-yard rush) capped the scoring late in the fourth.
—Field Level Media