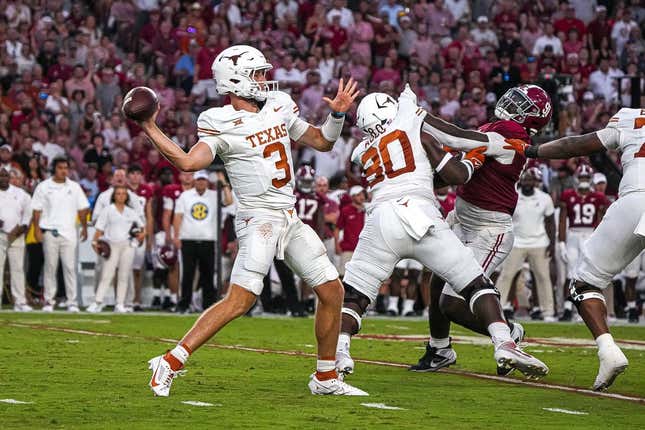 Forgive Texas if the Longhorns need a minute to bask in the afterglow of the program's most important win in years.
How running an NFL team is like running a restaurant | Chef Emeril Lagasse
No. 4 Texas brings the momentum of a 34-24 win at Alabama into what will be labeled a "trap" game with undefeated Wyoming on Saturday in Austin.
"I think one of the mistakes I can make is to try and beat them down and then knock the confidence out of them," Texas coach Steve Sarkisian said. "I've spent two and a half years trying to instill confidence into them. I want to be mindful of that. I have to point out areas for us to improve and where we can get better as a team."
The last time Texas was ranked in the top five was in 2010.
The Longhorns (2-0) scored a stirring victory over Alabama, its future Southeastern Conference rival, which was ranked No. 3 and had a 21-game home winning streak snapped in the defeat.
It was Texas' first win on the road against a team ranked in the top-three of the Associated Press poll since 1969's victory in the "Game of the Century" against Arkansas.
Everything is up for the Longhorns — they're ranked in the top five and quarterback Quinn Ewers suddenly is squarely in the Heisman Trophy conversation.
Ewers had his coming-out party against the Crimson Tide, passing for 349 yards and three TDs, two to former Georgia wide receiver Adonai Mitchell. Just as impressive was the Longhorns' ability to run off the final 7:14 of the game with a 12-play, 32-yard drive to cement the celebration.
The Longhorns are hopeful freshman running back CJ Baxter can play this week. He left the Alabama game after rushing for 31 yards on 11 carries.
"Knock on wood, not quite as serious as originally thought, so we'll monitor him day-to-day this week," Sarkisian said.
Day-to-day is the level of focus Sarkisian wants all of his players to apply.
There have been times since Texas' run to the national championship game in 2009 when it looked the part of title contender but eventually wilted. This group of Longhorns are determined to make waves but are sticking to the one-game-at-a-time mantra that's been the focus since they went 8-5 last year and were the preseason pick to win the Big 12 in their final year in the conference.
"I do not want our guys to not feel confident coming out of the Alabama game," Sarkisian said. "They earned the right to be confident by the way they played. Now we're trying to recreate it."
The Cowboys (2-0) aren't lacking confidence. They bring a Big 12 win to the fight this week but are 3-11 all-time against teams from the conference.
Wyoming opened the season with a 35-33 double-overtime win at home over Texas Tech and followed up that effort with a workmanlike 31-17 victory at home over Portland State last week.
Quarterback Andrew Peasley, who passed for 201 yards with a career-high three touchdowns and one interception in the win over Portland State, said he and his teammates were up for the challenge against Texas.
"Heck yeah," Peasley said Monday. "We're always going to be an underdog no matter who we play, so I think it will be fun for us to get this opportunity to go into a big crowd against a No. 4-ranked team in the nation. We just have to stay humble and play with Cowboy grit. That's what it comes down to for us."
Harrison Waylee is expected to make his Wyoming debut after rehabbing a knee injury in the offseason and the past two weeks. The transfer portal acquisition had 1,929 rushing yards and eight 100-yard rushing games in three seasons at Northern Illinois.
Texas holds a 5-0 advantage over Wyoming in the all-time series and will face the Cowboys in Austin for the first time since 2012.
—Field Level Media