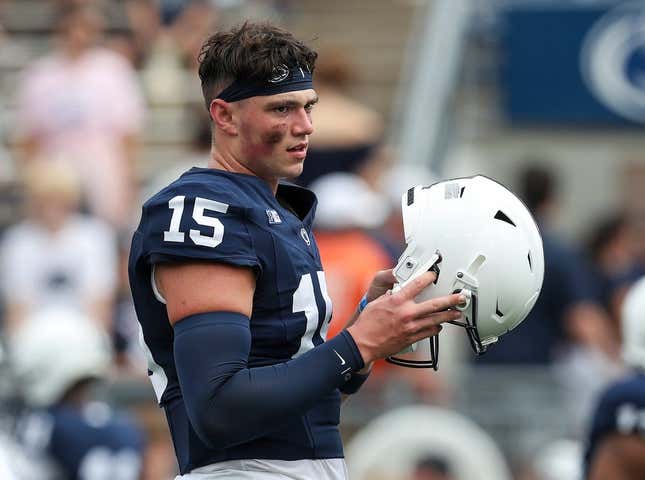 Illinois brings the 125th-ranked defense into Saturday's home game with No. 7 Penn State wounded and ready to make major changes.
How running an NFL team is like running a restaurant | Chef Emeril Lagasse
Toledo put up 28 points in the season opener. In a 34-point outburst Friday night, Kansas scored touchdowns on four of its first five possessions to drop the Fighting Illini to 1-1 and send head coach Bret Bielema back to the drawing board.
"Everything's on the table because the standard of defense in which we play it's just unacceptable," Illini defensive coordinator Aaron Henry said of lineup changes discussed with the coaching staff ahead of the Nittany Lions' visit to Champaign, Ill.
"You've got to believe in the people around you and you've got to do whatever it takes to get it right. Right now we're in the foxhole doing whatever it takes to get it right and we will."
There's no time for Henry to exhale. Penn State outscored West Virginia and Delaware 101-22 and has the longest active streak in the nation with nine consecutive games with 30 or more points.
Quarterback Drew Allar has been as advertised in his first two career starts with four touchdowns, no turnovers and the sixth-best completion percentage in the FBS (78.2 percent).
Allar makes his first career start Saturday at Memorial Stadium, where the Nittany Lions last lost in 2014. Illinois has won only two of the past eight meetings overall, including the nine-overtime game in 2021.
Head coach James Franklin said teams are focused on the 1-2 punch at running back, Nick Singleton and Kaytron Allen, but expects Illinois to make adjustments after seeing Allar prove he's more than a big name. If not, Allar gets the green light to keep his foot on the gas. He's averaging 9.62 yards per pass attempt.
"I'm going to make the first-time starting quarterback prove that he can do it. No matter what the hype has been like, he's still got to prove that he's done it," Franklin said of the mindset of playing Penn State early this season. "Well now, I think the defensive coordinators moving forward, you're in a tough, tough spot."
The Nittany Lions average 230 rushing yards per game. Singleton has four TDs and Allen is gaining 5.3 yards per carry.
Illinois' first-year starter Luke Altmyer survived two starts under heavy pressure as Bielema searches for the right combination on the offensive line. Altmyer made an impossible throw while being hit in the chinstrap on the game-winning drive to beat Toledo, had a 72-yard touchdown run at Kansas and was able to walk off the field after a second-half targeting penalty on Jayhawks defensive lineman Austin Booker. Booker was flagged and ejected for the third quarter spear.
"I'm very excited about where our offense can go," Bielema said.
—Field Level Media