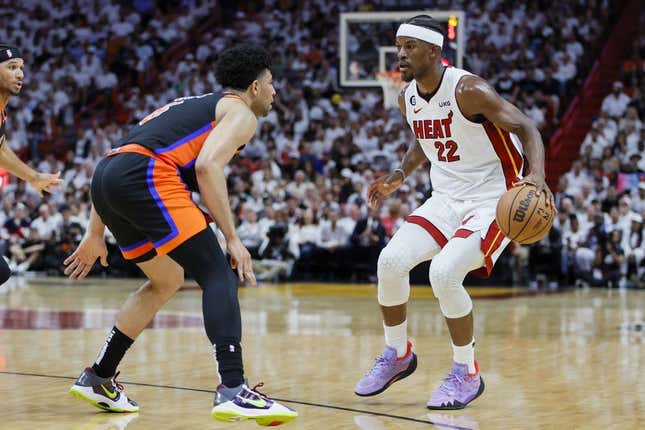 The Miami Heat were an unusual No. 8 seed in multiple ways. Now they are one win away from showing, yet again, why that seeding was beneath them
'Soccer fandom is full of gatekeepers' says Ted Lasso actor Brendan Hunt
The Heat will aim to close out an Eastern Conference semifinal series Wednesday night when they visit the fifth-seeded New York Knicks in Game 5 of the best-of-seven set
Host Miami took a commanding 3-1 series lead Monday, when Jimmy Butler and Bam Adebayo each posted double-doubles as the Heat beat the Knicks 109-101
With one more victory, the Heat will become just the second eighth seed to reach the conference finals and the first since the Knicks did so in the spring of 1999. But the circuitous route taken by Miami, a perennial title contender, is unprecedented
The Heat finished seventh in the Eastern Conference in the regular season and missed a chance to secure the seventh seed by falling to the Atlanta Hawks 116-105 in their first play-in game on April 11. Three days later, Miami punched its ticket to the main playoff bracket when it overcame a three-point deficit in the final 3:47 to beat the Chicago Bulls 102-91
As the eighth seed, the Heat drew the Milwaukee Bucks, who finished an NBA-best 58-24. But Miami became just the fifth No. 8 seed to win a first-round series by eliminating the Bucks -- who were without Giannis Antetokounmpo for two full games and most of a third due to a back injury -- in five games
Now the Heat have taken control against the upstart Knicks by leading wire-to-wire Saturday in a 105-86 win in Game 3 and clamping down on the visitors Monday. New York held just a pair of one-point leads and shot just 33 percent (6 of 18) in the fourth quarter, including 1 of 8 from 3-point range
"We've got a job to do," said Butler, who finished with 27 points and 10 assists while adding six rebounds. "And I think we're very capable."
The Knicks looked capable of mounting a rare deep playoff run with a resurgent regular season when they won 47 games, most by a New York team since 2012-13. In the first round of the playoffs, they earned a decisive five-game win over the Cleveland Cavaliers
But the injury-plagued Knicks, who haven't made the Eastern Conference finals since 2000, have appeared out of sync throughout the second-round series
The Knicks have committed 52 turnovers in the first four games, 13 more than the Heat. Miami also out-rebounded New York 94-83 in Games 3 and 4 and pulled down 13 offensive boards in each contest
The Knicks pulled down an average of 46.6 rebounds per game during the regular season, tied for second-most in the NBA, and outrebounded foes by 4.5 per game
"Just maybe they want it more -- I don't know," Knicks forward Julius Randle said. "That's been who we are all year. Got to find a way to step up and make those plays, keep this season alive.
The Knicks might be without Sixth Man of the Year finalist Immanuel Quickley, who missed Sunday's game with a left ankle injury that originally occurred in Game 3. New York listed him as doubtful for Game 5
The day off Tuesday also came at an opportune time for Randle, who missed the final five games of the regular season with a sprained left ankle and sat out the Knicks' 108-101 Game 1 loss due to the injury. The All-Star is shooting just 22.2 percent from 3-point range in the series after hitting 34.3 percent of his shots from beyond the arc in the regular season
--Field Level Media