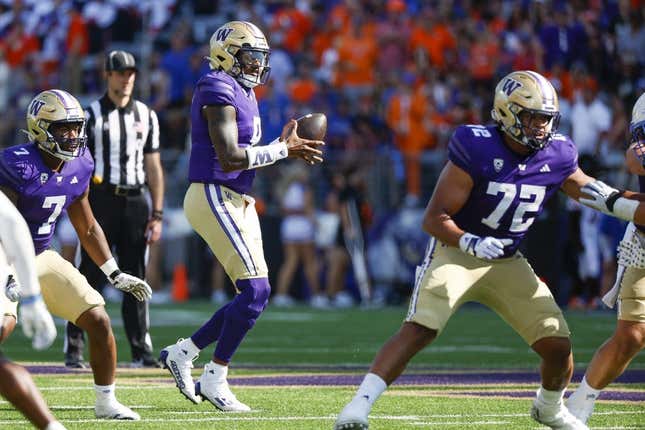 If there was one question left unanswered in Washington's season-opening 56-19 victory against Boise State, it was this: Will the No. 8 Huskies have enough of a rushing attack to keep the likes of Oregon, Southern California, Utah and Oregon State from trying to tee off on quarterback Michael Penix Jr. when the Pacific-12 Conference title is on the line later this season?
Is Texas or Florida State a bigger national title contender? | Agree to Disagree
Or even Tulsa, the team the Huskies will host on Saturday in Seattle?
Will Nixon came off the bench against Boise State last week to rush for 48 yards on six carries, including runs of 21 and 14 yards.
But the rest of the Huskies' running backs combined for only 30 yards on 13 carries.
Dillon Johnson, a transfer from Mississippi State, got the start and managed just 12 yards on seven carries with one touchdown.
"We're just not quite there yet as a whole group (with the ground game), everyone in sync," Washington coach Kalen DeBoer said. "I don't feel like it's anything we need to be alarmed about yet. Obviously you can't keep making the same mistakes, but it was one thing here, one thing there.
"It wasn't the same thing that was popping up. It's just (about) everyone getting better. There's a different tempo to things, right? You practice hard, but you aren't really getting tackled all the time. There's a different rhythm to it when you get into games."
Nixon, a fourth-year sophomore who transferred from Nebraska, thought he could have done even better.
"There was one (run) where I should have kept it going, and it's probably a 50-yard touchdown," he said.
Even the ineffective ground game couldn't prevent the Huskies from putting up 568 yards of total offense.
Penix launched his Heisman campaign by throwing for 450 yards and five touchdowns on 29-of-40 passing. Jalen McMillan caught two TD passes and scored on a 19-yard run out of the wildcat formation.
"We knew that they were going to try to bring different things at us, things we might not have seen on film,'' Penix said. "But once we started seeing the picture, it was on from there."
Tulsa opened its season with a 42-7 victory against visiting Arkansas-Pine Bluff on Aug. 31.
Redshirt freshman quarterback Cardell Williams came off the bench for an injured Braylon Braxton (left ankle) in the first quarter and completed 13 of 14 passes for 233 yards and three touchdowns. Williams' only incompletion came on his final pass in the fourth quarter.
Tulsa's Jordan Ford rushed for 110 yards and a score, and Marquis Shoulders caught five passes for 132 yards and two TDs.
"It was a good win. A lot of errors. Some things to clean up on. A lot of things that we're trying to be not a part of our game that we have to learn to take out," first-year Golden Hurricane coach Kevin Wilson said. "But it was a good start, and proud of the work. Excited to get the win. Excited to be 1-0."
Wilson said Braxton is questionable for Saturday's game at Washington.
"It's not a significant injury," Wilson said. "We'll see how he progresses this week."
—Field Level Media