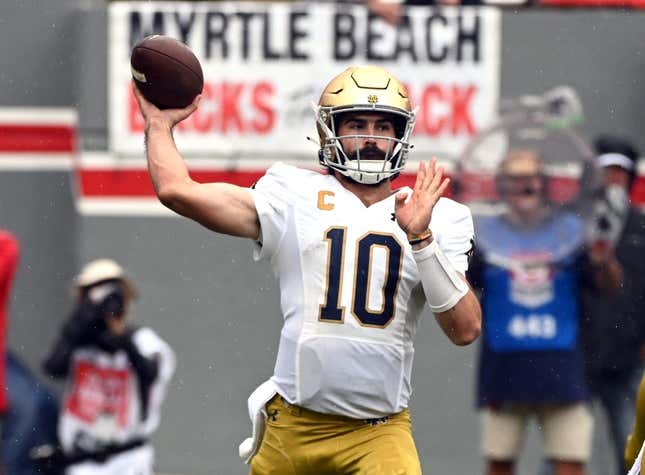 The Sam Hartman era at Notre Dame couldn't have gotten off to a much better start.
How running an NFL team is like running a restaurant | Chef Emeril Lagasse
Hartman has been flawless through the first three games of the season, and he will look to continue rolling on Saturday when the ninth-ranked Fighting Irish face Central Michigan in South Bend, Ind.
After a spectacular five seasons at Wake Forest, Hartman hasn't skipped a beat at Notre Dame (3-0). He is tied for the second-most passing touchdowns in the FBS (10) this season while throwing for the sixth-most yards (731), doing so without a single interception.
Hartman is coming off a performance in which he completed 15 of 24 passes for 286 yards and four touchdowns against North Carolina State last Saturday, propelling the Irish to a 45-24 victory.
While Hartman's hot start has Notre Dame in position to win its first four games for the third time in the last four seasons, the Irish will be faced with their first real challenge when No. 6 Ohio State comes to town a week after the Irish's game Saturday vs. the Chippewas (1-1).
Even though the Buckeyes are looming, Notre Dame coach Marcus Freeman knows his team can't look past a Central Michigan squad that put up 45 points in a three-point win over New Hampshire last weekend.
"I know somebody's going to ask about Ohio State coming up, and it doesn't take long to put on film and understand that we have a challenge (this week)," Freeman said. "I've always said, 'We get 12 guaranteed opportunities.' So we're down to nine, and for us to overlook any opponent would be just crazy, right?"
Freeman praised Chippewas quarterback Bert Emanuel Jr., who totaled 294 yards (193 passing, 101 rushing) and four touchdowns (two passing, two rushing) against New Hampshire.
"He's a good leader," Central Michigan coach Jim McElwain said of Emanuel, who was named Mid-American Conference West Division Offensive Player of the Week. "This team believes in him."
Although the stakes are raised with a trip to Notre Dame Stadium to play a top-10 team in the nation, Emanuel said he views the Fighting Irish like any other opponent.
"It's 100 yards, it's still football for me," he said. "Yeah, it's a big crowd, great team, great history ... but it's still football at the end of the day."
Emanuel will go against a stern Notre Dame secondary that picked off Brennan Armstrong three times in the win over the Wolfpack. The Irish have five interceptions on the season, tied for third most in the FBS.
"It's huge to give our offense the ball in plus territory, and they end up getting 14 points off of those three interceptions," Freeman said. "That's a huge momentum, morale base. And I think it's a lot of different things that go into it."
Saturday will mark the first meeting between the teams. However, it won't be the first trip to South Bend for McElwain, who has nearly 40 years of coaching experience at the collegiate level.
"We're playing at Notre Dame," he said. "It's pretty cool. Been there three times, and it's awesome. The history and the tradition. I'm excited to get there. Let's go enjoy it."
—Field Level Media