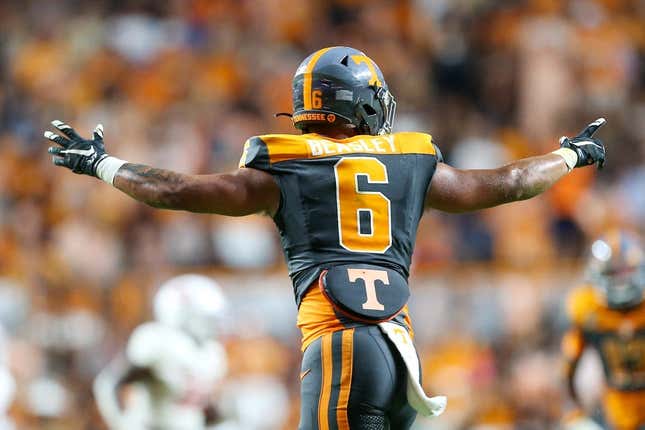 Joe Milton III threw for two touchdowns and rushed for one more as No. 9 Tennessee pulled away for a 30-13 win over Austin Peay on Saturday evening in Knoxville, Tenn.
How running an NFL team is like running a restaurant | Chef Emeril Lagasse
Milton completed 21 of 33 passes for 228 yards for the Volunteers (2-0). Ramel Keyton and McCallan Castles each had one touchdown reception.
Mike DiLiello completed 29 of 39 passes for 260 yards with one touchdown and one interception for Austin Peay (0-2). Trey Goodman led the Governors' receivers with three catches for 70 yards and a touchdown.
It was a slow start for Tennessee, which was tied 3-3 with the visitors after the first quarter and led 13-6 at the half.
Austin Peay opened the scoring with a 45-yard field goal by Maddux Trujillo on the first drive of the game.
Tennessee answered with a 28-yard field goal by Charles Campbell just over nine minutes through the first quarter to even the score at 3-3.
Trujillo struck again, this time from 34 yards, to put the Governors on top 6-3 with 8:15 remaining in the first half.
Tennessee made it 6-6 with 4:55 left in the half on Campbell's 37-yard field goal.
The Volunteers finally took their first lead of the game with 15 seconds to go before halftime. Milton kept the ball and ran 6 yards for a touchdown.
Early in the third quarter, Milton relied on his arm rather than his legs to lead Tennessee to another touchdown. He connected with Keyton for a 5-yard score to increase the Volunteers' lead to 20-6.
Campbell hit a 22-yard field goal to make it 23-6 with 6:33 left in the third quarter.
Austin Peay cut the deficit to 23-13 with 9:01 remaining in the fourth quarter. DiLiello connected with Goodman for a 52-yard touchdown after Volunteers defensive back Doneiko Slaughter fell down on the play.
Tennessee needed only 58 seconds to respond. Milton hit Castles for a 43-yard touchdown to make it 30-13 with 8:03 remaining.
Jaylen Wright led the Volunteers on the ground with 13 carries for 118 yards. Jabari Small added 13 carries for 95 yards.
—Field Level Media