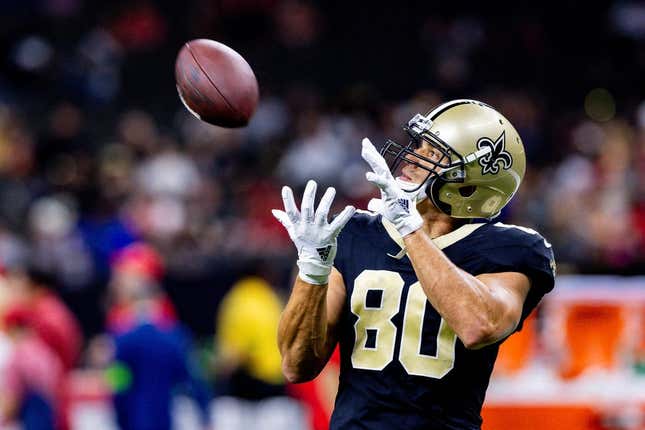 According to a spokesperson for the Orange County district attorney's office, no charges will be filed against New Orleans Saints tight end Jimmy Graham for his August arrest in California.
How running an NFL team is like running a restaurant | Chef Emeril Lagasse
The case was rejected due to insufficient evidence to prove a crime beyond a reasonable doubt, a DA office's spokesman said.
On Aug. 19, Graham was taken into custody in Newport Beach, Calif., for obstructing a police officer and suspicion of being under the influence of narcotics, according to police.
"Thanks for (the) LAPD and just how quickly kind of everything went down and kind of how helpful they were through the process," Graham said at the Saints' facility on Thursday. "Right now, we're just dealing with that all personally."
The Saints said afterward that Graham might have suffered a seizure, saying he experienced a "medical episode" and became disoriented on the night he was arrested by Los Angeles-area police.
At the time of the arrest, the Saints were in Costa Mesa, Calif., for joint practices and a preseason game against the Los Angeles Chargers. Graham didn't play that week but was back at practice the following week. In the team's preseason finale against the Houston Texans, he scored his first touchdown with the Saints since the 2014 season.
The 36-year-old was on the Saints' roster from 2010-14 before playing for the Seattle Seahawks (2015-17), Green Bay Packers (2018-19) and Chicago Bears (2020-21). He sat out the 2022 season.
Graham said he appreciated everyone's support while dealing with the aftermath of the incident.
"I mean, I'm feeling great, just looking forward and excited to put it behind me," he said. "I'll be fine in the long run. Just want to thank the organization and everybody that was with me through those couple of days, my teammates and my close family. I just appreciate everybody."
—Field Level Media