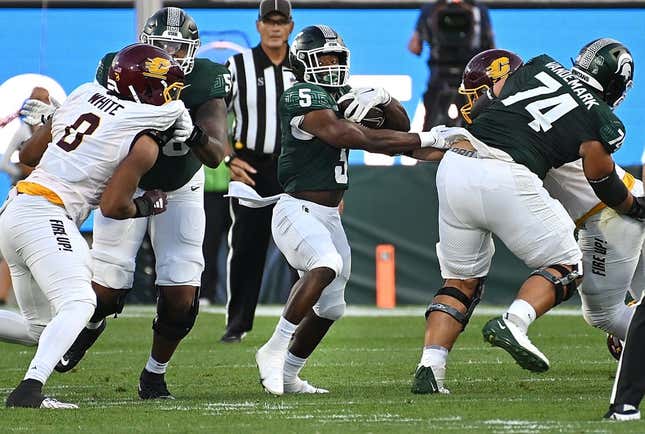 Noah Kim passed for 279 yards and two touchdowns as Michigan State defeated Central Michigan 31-7 in the season opener for both teams on Friday night in East Lansing, Mich.
How running an NFL team is like running a restaurant | Chef Emeril Lagasse
Nathan Carter, a UConn transfer, rushed for 113 yards and a touchdown on 18 carries. Jalen Berger produced 24 yards and a score on eight carries, and he caught four passes for 30 yards.
Bert Emanuel Jr. passed for 87 yards with a touchdown and an interception and also led the Chippewas with 41 rushing yards on 17 carries.
Michigan State led 10-7 at halftime.
The Chippewas had a fourth-and-goal from the 2 late in the first quarter. They came up empty as Emanuel was sacked by Simeon Barrow Jr.
Michigan State finally broke the scoreless deadlock with 6:55 left in the half. After a three-and-out possession by the Chippewas and a short punt, the Spartans got the ball at the Central Michigan 46. A 23-yard pass from Kim to Tre Mosley set up Jonathan Kim's 47-yard field goal.
The Spartans reached the Central Michigan 30 on their next possession, but Carter was stopped for no gain on fourth-and-1.
The Chippewas scored during the ensuing possession. A pair of facemask penalties set up Emanuel's 12-yard touchdown pass to Chris Parker.
Michigan State got those points back before the end of the half as the passing game began to click. Kim connected with Jaron Glover on passes of 10, 32 and 33 yards. Carter rushed up the middle for the last 2 yards.
The Spartans extended their lead to 17-7 late in the third quarter. Tyrell Henry's 18-yard punt return gave Michigan State the ball at the Central Michigan 45-yard line.
A pass-interference call put Michigan State inside the 20. Two plays later, Berger cut to his right and scored from 12 yards out.
Kim's 72-yard hookup with Christian Fitzpatrick led to the Spartans' third touchdown, a 10-yard scoring pass from Kim to Henry that made it 24-7.
The Spartans added to their lead with 9:05 left when Kim connected on an 8-yard scoring pass to Maliq Carr.
—Field Level Media