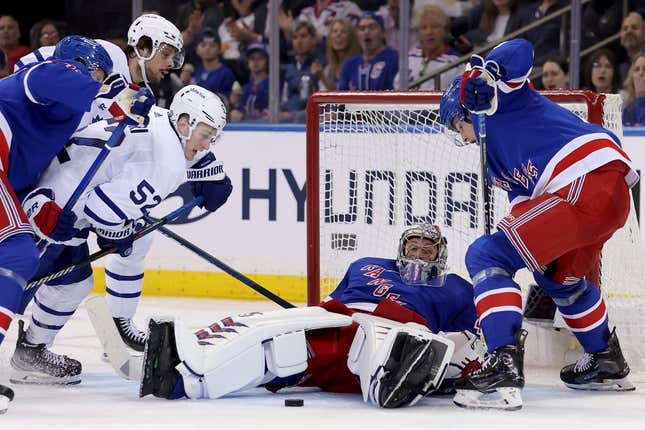 Noel Acciari scored the go-ahead goal with 7:39 remaining in the third period to fuel the visiting Toronto Maple Leafs to a 3-2 victory over the New York Rangers on Thursday in the regular-season finale for both teams
Bass' ERA stinks, but not compared to who he is off the mound | Worst of the Week Countdown
New York's Filip Chytil appeared to forge a 3-3 tie with 1.2 seconds remaining in the third period, but the apparent goal was disallowed because the puck was kicked into the net.
Toronto's William Nylander scored his 40th goal of the season, defenseman Timothy Liljegren also tallied and Joseph Woll made 22 saves for the Maple Leafs (50-21-11, 111 points), who are riding a four-game winning streak entering their first-round playoff series against the Tampa Bay Lightning
Artemi Panarin and Kaapo Kakko each scored a goal and Jaroslav Halak turned aside 18 shots for the Rangers (47-22-13, 107 points), who have lost three of their last four games (1-1-2). New York will renew its Hudson River Rivalry when it faces the New Jersey Devils in the first round of the playoffs
Nylander scored from the doorstep to forge a 2-2 tie at 7:48 of the third period.
Acciari then poked home his own rebound to give Toronto its first lead of the game. Acciari's goal was his 14th of the season and first since he tallied twice on March 11.
Toronto committed a turnover in its defensive zone to set up New York's opening goal of the game at 1:38 of the second period.
Vincent Trocheck settled the puck and quickly wristed a centering feed to Kakko, who neatly shifted from his forehand to his backhand while skating diagonally from the slot before sending a sharp-angle shot past Woll. Panarin alertly jumped into the air to avoid the puck on the shot from Kakko, who netted his 18th goal of the season and fourth in his last seven games.
Liljegren's shot from the wing caromed off the stick of Rangers defenseman Niko Mikkola and past Halak to create a 1-1 tie at 3:09 of the third period
Panarin unleashed a one-timer from deep in the left circle on the power play to regain New York's lead at 6:26 of the third period. The goal was Panarin's 29th of the season and third in his last two games.
--Field Level Media