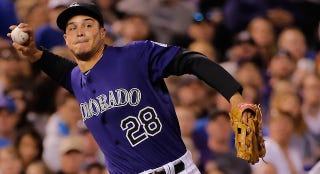 Nobody needs to be told that Rockies third baseman Nolan Arenado, who won two Gold Gloves his first two seasons in the majors, is a good-as-hell defensive player. Still, attention needs to be called to what Arenado has been up to this April, a month into which he's packed a season's worth of sparkling defensive plays.
Seriously, go to Arenado's tag page on MLB.com and take a moment to look at how many highlights he's produced in just the last month. Every day when I wake up, I check to see if the Rockies won the night before, and then I go to that tag page to marvel at whatever slick defensive play I know Arenado has put there for me. The man rarely disappoints.
The play above, from the April 14 game against the Giants, is clearly the crown jewel of Arenado's month, but my personal favorite play happened on Friday night:
The component parts of this aren't really anything to freak out over; diving stops and strong throws are things that we've seen good third baseman do plenty of times. What's remarkable about this play is how seamlessly Arenado transitions from one action to the next. This is what sticks out when you watch him play defense—the complete lack of hitches and lumps in his game.
Watch his Jeter-esque dive into the stands again, and note how quickly he pops out of the crowd to make the throw back to third base. That preternatural sense of what to do next, and the ability to just do it, is the thing that leaves guys like Casey McGehee shaking their heads in disbelief after getting doubled up by Arenado, and it's the thing that makes him so fun to watch.