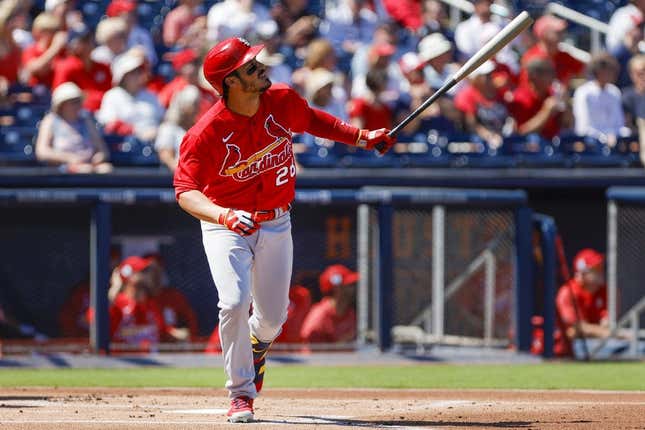 PHOENIX -- Nolan Arenado had three hits, including two doubles, and Kyle Schwarber blasted a three-run home run to lead the U.S. to a 6-2 win over Great Britain in the World Baseball Classic opener for both teams in Phoenix.
Arenado, batting cleanup, finished 3-for-4 with two RBIs in the Pool C game of the World Baseball Classic.
His St. Louis Cardinals teammate Paul Goldschmidt scored three runs batting ahead of Arenado in the order.
Great Britain's second batter of the game, Trayce Thompson, opened the scoring by hitting a home run to center field off Adam Wainwright, another member of the Cardinals.
Wainwright, a 41-year-old veteran right-hander, lasted four innings and was credited with the win, per World Baseball Classic pitch-count rules.
Wainwright threw 49 pitches (36 for strikes) and scattered five hits with four strikeouts and a walk.
Arenado sparked a two-run rally in the bottom of the third inning.
He hit an RBI double with one out against Great Britain starter Vance Worley, the losing pitcher who was relieved by Jake Esch with two outs in the third after walking Trea Turner.
Kyle Tucker, the first batter Esch faced, lined a single to center to score Arenado to give the U.S. a 2-1 lead.
Esch was relieved by Ryan Long with one out in the fourth after walking Mike Trout and hitting Goldschmidt with a pitch.
After Arenado popped up for the second out, Schwarber followed with his three-run home run to center field that gave the U.S. a 5-1 lead.
The lead increased to 6-1 in the sixth when Goldschmidt singled off reliever Daniel Cooper to lead off the inning and then scored on Arenado's double.
Great Britain's D'Shawn Knowles tripled with one out in the seventh off reliever Kyle Freeland and scored on Anfernee Seymour's groundout to cut the lead to 6-2.
The U.S. is trying to defend its 2017 World Baseball Classic title while Great Britain qualified for the event for the first time.
--Field Level Media