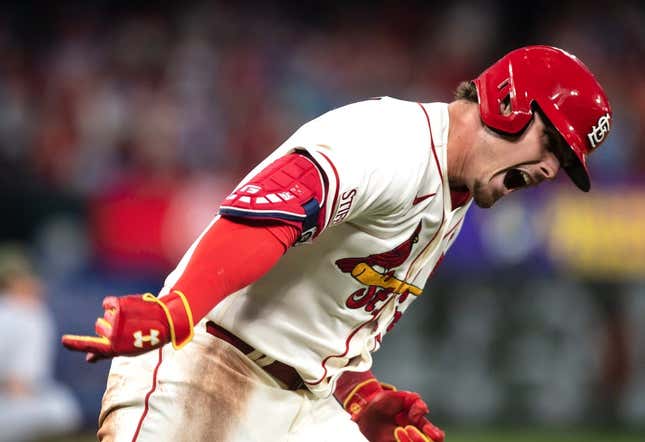 Nolan Gorman hit the decisive three-run homer in the eighth inning to lift the St. Louis Cardinals over the visiting Los Angeles Dodgers 6-5 on Saturday night
Cardinals starting pitcher Miles Mikolas allowed three runs on six hits in seven innings. Reliever Ryan Helsley (2-2) got the victory and Giovanny Gallegos snuffed out the Dodgers' ninth-inning rally to earn his fourth save
J.D. Martinez hit a three-run homer for the Dodgers, who suffered just their fifth loss in 21 games
Dodgers starting pitcher Noah Syndergaard allowed three runs on four hits in five innings. Victor Gonzalez (1-1) took the loss after allowing Gorman's eighth-inning homer
Paul Goldschmidt hit a one-out single in the first inning, Gorman walked and Wilson Contreras hit a two-out single to put the Cardinals up 1-0
The Cardinals increased their lead to 3-0 in the second inning
Paul DeJong got hit by a pitch leading off, then he stole second base and scored on Alec Burleson's double. Burleson moved to third on a groundout and scored on Lars Nootbaar's sacrifice fly.
Mikolas retired the first 10 batters he faced. Freddie Freeman hit a one-out double in the fourth inning, but Mikolas retired the next two hitters on groundouts.
David Peralta hit a one-out double in the fifth inning and moved to third on Jason Heyward's infield single. Once again, though, Mikolas induced two grounders to escape.
The Dodgers tied the game 3-3 in the sixth inning. Mookie Betts and Freeman hit singles and Martinez launched his homer
Tommy Edman led off the Cardinals' half of the eighth inning with a double off the left-field wall. Goldschmidt was intentionally walked and Gorman followed with his homer -- his 13th of the season
The Dodgers' Miguel Vargas led off the ninth inning with a double. Peralta followed with a single and Heyward hit an RBI double
Gallegos relieved Helsley and allowed and Will Smith's sacrifice fly, but he struck out Betts to end the game.
--Field Level Media