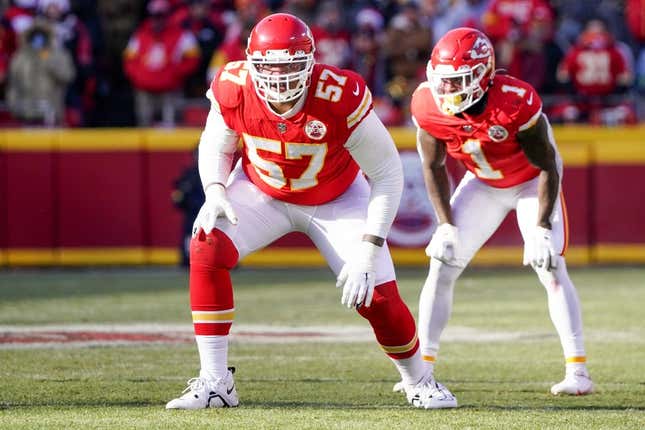 Seven days before the start of free agency, left tackle Orlando Brown Jr. was informed by the Kansas City Chiefs he won't receive the franchise tag.
How running an NFL team is like running a restaurant | Chef Emeril Lagasse
NFL Network and ESPN reported Monday that Brown received word from the Chiefs and that the two sides remain engaged in discussions geared toward a tag-free resolution.
The deadline for NFL teams to use the franchise tag is Tuesday at 4 p.m., and the cost to keep Brown under terms of the repeat application of a franchise tag would've been nearly $20 million for 2023. He played on a one-year tender worth $16.7 million in 2022, and would have been assured a 20 percent increase if the Chiefs tagged him in back-to-back offseasons.
Brown, a third-round pick of the Baltimore Ravens in 2018, was acquired by the Chiefs in 2021. He played last season under the terms of the franchise tag after reportedly turning down a six-year extension worth up to $139 million.
Those talks reportedly broke down over the amount of guaranteed money in the offer from Kansas City.
Chiefs general manager Brett Veach said last week that Brown would be a priority.
"As always, it's more beneficial to us to get something done long-term," Veach said at the NFL Scouting Combine. "That's why this season is so important to us. Really, this is the start. We'll have a lot of dialogue, as you know. The combine is great to come in and check out the new college talent, but a lot of the time here is spent talking with the agents of our players to start exchanging information. Unlike last year, we at least have a runway to work with. We've gotten to know his team a little bit better, so we're excited to get that process started here and get something figured out."
Brown turns 27 in May and was a Pro Bowl selection in each of his two seasons with the Chiefs. With 75 starts in five seasons and experience at right tackle and left tackle, Brown would likely jump to the front of the line of available offensive tackles if the two sides don't reach an agreement by March 13. That's the date teams and unrestricted free agents from other teams can begin discussing contracts.
Veach has a number of decisions to make involving the offensive line he overhauled in 2021, following the Super Bowl loss to the Tampa Bay Buccaneers that left quarterback Patrick Mahomes battered.
Right tackle Andrew Wylie is an unrestricted free agent and the Chiefs' two All-Pro blockers, center Creed Humphrey and guard Joe Thuney, represent imminent decisions for Kansas City.
Humphrey is a free agent in March 2024. Thuney has a base salary of $15.5 million and cap number of $22.6 million in 2024 and 2025.
--Field Level Media